International superstar Angelina Jolie made her career taking on edgy roles and maintaining her air of mystery. Her astrological birth chart has a strong influence on her life and career as an actress, wife, mother, and internationally awarded humanitarian. 
If you have ever seen one of Angelina Jolie's hit films, it is no secret why the world is obsessed with her, and it is not just because she is drop-dead gorgeous!
Angelina Jolie is an international superstar because she was not afraid to do what no other actress at the time was doing—choosing roles that revealed something, dark, sexy, and stirringly real.
So why did Angelina Jolie always choose such dark and sultry roles? Was it just her style? Or is there a deeper meaning there?
After reviewing and analyzing her birth chart and studying her life patterns, I would say that it has a strong connection to who Angelina Jolie is as a person and how she expresses herself to the world.
So, let's explore what Angelina Jolie's birth chart has to say about her life and career as an actress, wife, mother, and internationally awarded humanitarian.
Overview of Angelina Jolie's Birth Chart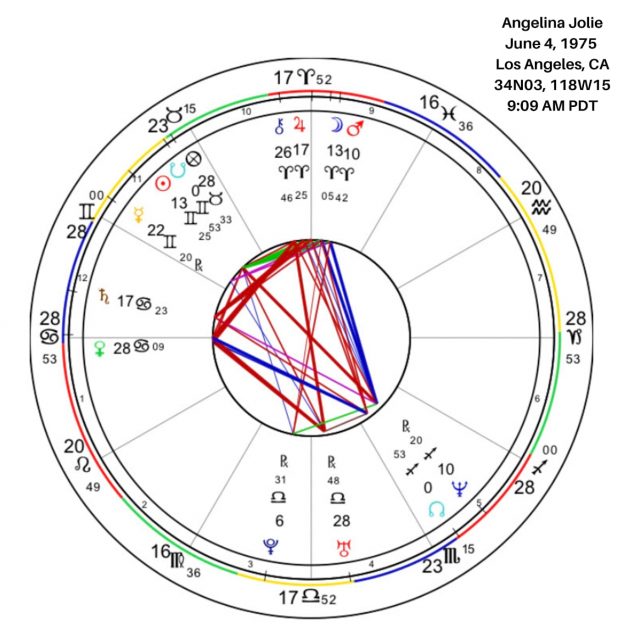 Some artists must discover their talents while others are born into it.
Angelina Jolie is a born artist, something she and her parents knew was her fate from when she was very young.
Born in the heart of Gemini Season on June 4, 1975, in Los Angeles, California, Angelina Jolie is a strong Gemini Sun, lionhearted Leo Rising, and assertive Aries Moon.
With all Angelina's primary placements in action-oriented, social signs, it was her destiny to command the attention of the big screen.
Like most famous actors, Angelina Jolie got her start at an early age. Her father is actor Jon Voight, and she had her first debut on the big screen at the tender age of six years old.
I believe Angelina's Leo ascendant had a major influence on her father's role in her life and why her childhood would be so important when finding her identity in her later years.
Angelina's Gemini Sun and Mercury are placed in her eleventh house of status and leadership. I believe this placement gives her the ability to speak openly and behave in a manner that society deems unusual.
For example, at an awards show, Angelina Jolie kissed her brother on the lips and said, "I am so in love with my brother." After the statement, the media followed her for weeks, digging up old rumors of incestuous longings and familial pain. 
Outside of her Gemini Sun stirring up negative media attention, Jolie's obsession with mental health, death, drugs, and eroticism would help set her apart from her peers.
Jolie's groundbreaking and career-changing performance came when she took on the psychedelic and emotionally intense role of Gia Carangi. The HBO film Gia chronicled the supermodel's chaotic and destructive life.
However, much of Jolie's success as an actress comes through her tenth house Moon, Jupiter, and Mars in Aries.
With Aries ruling Jolie's tenth house of career, ambition, and worldly success, it is no surprise that she chose to integrate her love of psychology, martial arts, action, and stunts into her life's work.
With hit films Lara Croft: Tomb Raider (which skyrocketed her career), Mr. & Mrs. Smith, and In the Land of Blood and Honey, Jolie showed off her fiery nature by doing most of her stunts.
The peak of Jolie's career came during her star role in Disney's Maleficent, a role that I believe highlighted Saturn in her twelfth house of Cancer. 
Saturn in her twelfth house of Cancer reveals a more feminine and mystical side of Jolie. This softness and sincerity are often obscured by her interest in drama, violence, and sex.
The Seductive Wife and Dark Lover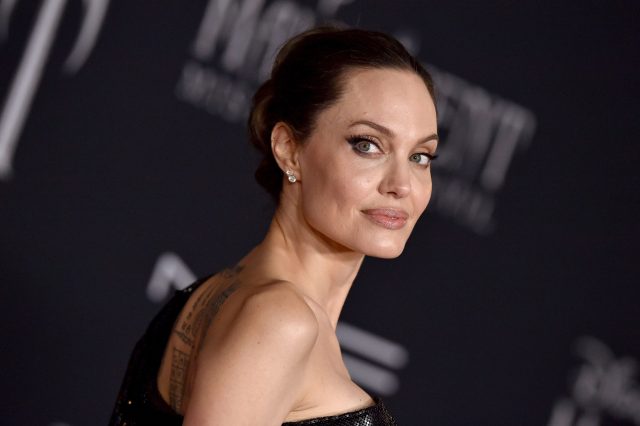 Angelina Jolie's troublesome love life began long before she walked down the aisle to marry her first husband, actor Johnny Lee Miller, wearing a silk blouse with his name written in her blood.
If you want to know where Angelina's troubles started, it could have been with the divorce of her parents at the age of two, or when her mother let Angelina's gothic boyfriend move into their family home at the shocking age of fourteen.
For two years, Angelina claims, her mother allowed her live-in boyfriend to stay at their home so she could safely experiment with eroticism and knife play.
It was then that Angelina's obsession with "dark" love began.
With Angelina's Venus in her twelfth house of Cancer and Moon in her tenth house of Aries, she likely gave her mother an extremely hard time controlling her, though she probably did the best she could to keep her on the safest path.
What I find interesting is that Angelina's Venus is in Cancer, yet she finds it hard to feel soft, graceful, and feminine.
This may be because her Venus is in her twelfth house, which is often associated with death, metaphysics, and the unseen.
However, with Mars in her tenth house of Aries, she may struggle with her need to be in control and her conflicting desire to feel vulnerable.  
After Jolie's divorce from Johnny Lee Miller, she met her next husband, actor Billy Bob Thornton, on the set of Pushing Tin. They dated for two months before the two married in Las Vegas.
The couple's love was most famously noted for the vials of each other's blood they wore around their necks, solidifying Jolie's need for possession and control (Mars in Aries) and passion for the dead (Venus in twelfth house).
Jolie's next husband would be Brad Pitt, forming a dynamic duo that was easily coined "Brangelina" for their passionate chemistry and high-publicity relationship.
Although "Brangelina" was widely accepted by the world, their love story did not come without a hefty price.
With Jolie's Uranus in her fourth house of Libra, she often makes fast-changing, intense decisions when it comes to love, and her relationship with Brad Pitt may have been the reason for his messy divorce from Jennifer Aniston.
Although Jolie claims she and Pitt were platonic until his separation, it did not stop them from bringing their first biological child into the world less than a year later.
However, out of all her loves, I believe Brad Pitt was the most cosmically aligned.
With his Sagittarius Rising, Sagittarius Sun, and Jupiter in Aries, he brought more exposure, stability, and adventure to her career and family life.
But after adopting several internationally and racially diverse children, and having three more kids together, the couple decided to call it quits, after only being married for two years.
If I had to guess the cause of the split, it was because they tried to place a label on their love.
As two strong, fire-dominant individuals, the last thing they needed was a traditional marriage.
Read next: Donald and Melania Trump Love Compatibility Analysis
The Humanitarian Mother and Activist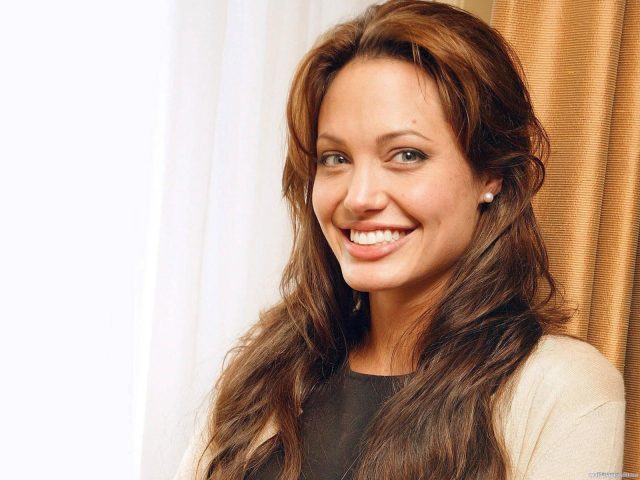 If there is anything other than her nontraditional love life and hobbies that need to be mentioned, it would be her unwavering mission to empower humanity, particularly communities like Cambodia and South Africa, where some of her children are from.
As a mother and a humanitarian, Jolie's Mars and Moon in Aries bring her strength. Her first child, Maddox, was the turning point, as her commitment to be the best mother possible was the stability she never knew she needed.
Angelina's Neptune is in her fifth house of Sagittarius. In Astrology, the fifth house often reveals how a woman will mother her children and choose her identity in the world. Angelina finds her solace as a mother and humanitarian through her involvement with foreign affairs and cultural diplomacy.
In efforts to connect with her children's heritage and utilize the wealth that she accumulated over the years (Saturn in Cancer), Jolie purchased a national park to help communities and protect wildlife in Cambodia, Maddox's birthplace.
She also started a foundation in his name.
Although this can be attributed to her pioneering Mars, Jupiter, and Moon in Aries, I believe it also highlights her eleventh house Gemini Sun and Mercury.
With her Sun and Mercury in the eleventh house, which most commonly rules activists, Jolie is expressing her desire and concern for her neighbor and fellow community members in a global way.
I have found this is a popular theme for eleventh house Suns, especially air signs.
Overall, Jolie's birth chart is a depiction of a dynamic woman with skeletons, passion, and secrets that extend far behind the big screen.
As an actress, her Gemini Sun and Leo Ascendant give her an award-winning personality that is uniquely her own.
From her groundbreaking, high-strung emotional dramas like Girl, Interrupted, to her box office hits like Salt, Angelina's Mars, Jupiter, and Moon in her tenth house of Aries assure that her long-time efforts in the film industry will be successful. 
And when it comes to her controversial relationships, I believe Uranus in her fourth house of Libra is the cause behind her struggles with love.
Uranus is constantly rebuilding and destroying, and with it in her fourth house of home, her long struggles with her father and the death of her mother may have been too much for Jolie to bear.
So instead of finding stability in love, she sought danger, which ultimately led to her frequent heartbreaks and strong sexual appetite.
If I could give Angelina Jolie suggestions about her love life, I would suggest dating someone with more earth and water. Someone who can help her balance out her instabilities and deal with the subconscious emotions she seems to be running from.
As a relationship astrologer, I encourage every woman to get to know themselves better by exploring how well matched they are in love.
If you are interested in dating someone or want to know if you and your current partner are a good fit, try taking my free love compatibility quiz.
If you are a Leo or Gemini Woman with strong hints of Aries, do you relate to Angelina? Do you find similarities in your chart? Let me know in the comments below. I love to hear from you!
Your sister and friend,
Anna Kovach