Sassy, loving, goal-oriented, independent—these are all words that I would use to describe the one and only Sofia Vergara. 
From her striking Latin beauty, voluptuous physique, and humorous charm, Sofia Vergara is one of Hollywood's most influential Latin women. 
Born on July 10, 1972, in Barranquilla, Colombia, Sofia Vergara is a fierce Cancer Sun and Cancer Moon. Because Sofia's Sun and Moon are both in the sign of Cancer, Sofia is an example of the classic Cancer woman through and through. 
In all areas of her life (home, work, and love), Sofia will work hard to create a luxurious lifestyle of comfort, status, and inner peace. 
With her bold move to leave dentistry school and flee from Colombia to Miami after her brother's murder, Sofia's protective Cancer nature has been guiding her to her destiny as an entertainer and role model for women all along. 
Sofia Vergara in Life
Born under one of the most sensual signs of the Zodiac, Sofia Vergara is what I like to call a nostalgic Cancerian queen. 
With water as her ruling element, Sofia has a charming, welcoming, and warm personality. It doesn't take very long for her soul-grabbing gaze to pull you under her spell. 
As wealth-driven Capricorn's opposite sign, Cancer women are notorious for their love of the latest designer fashions and luxurious styles.
Although Sofia Vergara comes from humble beginnings, her consistent hard work as an aspiring model and actress paid off, seeing her become one of People's fifty most beautiful people and one of television's highest-paid women. 
Naturally, Sofia Vergara is a homebody. When she is in the comfort of her family home or a serene hotel, her Cancer Sun and Moon placements come alive. 
As the fourth sign of the Zodiac, Cancer is the sign most associated with family, the home, and emotional stability. So, being at home with her close friends and family is her number one happy place. Her home is her sanctuary. It is where she goes to rejuvenate and relax. 
Because Cancer is the sign most associated with the mother, I'm not surprised that Sofia gave birth to her first child at a young age. And like I've seen with almost all Cancer-dominant women, children and responsibility strengthen their resilient purpose, not weaken it. 
At the same time, Sofia's hidden fire placements represent the outgoing and bubbly personality her fans and friends know and love. 
With Sofia's Mercury (how she communicates) in fiery Leo, she is a joyful and spontaneous friend and playful mother. She enjoys laughing, making art, and traveling. Fixed-fire Leo's influence leads her to be honest and direct with her thoughts and opinions. 
Sofia's friends and family would most likely describe her as a kind-hearted and occasionally moody woman who is not afraid to tell it like it is. 
Because Mercury rules sound, individuals born with Mercury in Leo typically enjoy dancing and listening to music. 
To keep her balance between the social homebody (Cancer) and ready-to-roll best friend (Leo), I wouldn't be surprised if Sofia split her time between wild nights of dancing to Latin grooves and chill pajama movie nights in bed. 
Sofia Vergara at Work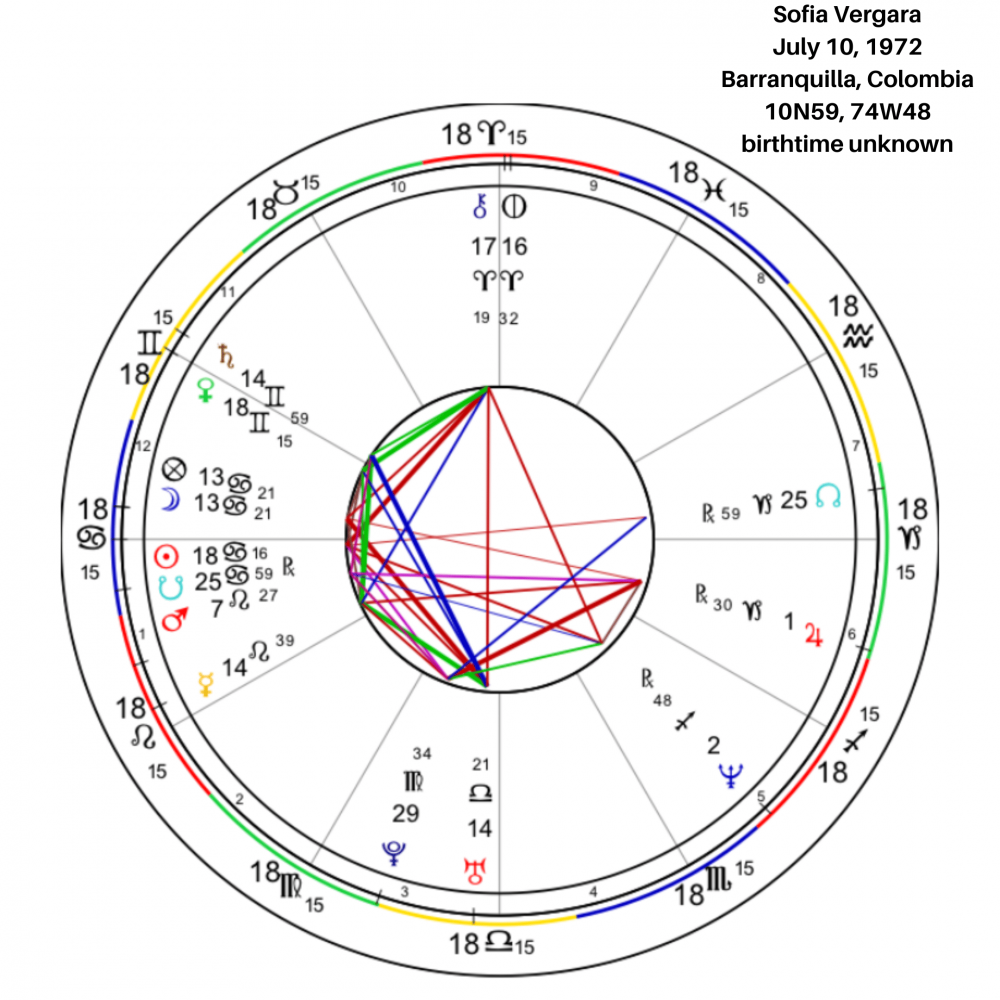 When it comes to work, the Cancer woman has the empathy of a nurturing mother and spirit of a well-rounded businesswoman—she has what it takes to thrive in the hustle and bustle. 
Ruled by the Moon, the Cancer woman's professional path will typically change when she learns to follow her intuition. Most famous Cancer women like Cher had to overcome deep emotional traumas before they could step into their power as a feminine role model; Sofia Vergara is the same. 
Influenced by her Cancer Sun and Moon, it was the magic of the ocean that brought her to pursue a career in entertainment. 
"Discovered" on a Colombian beach after she felt the call to leave her home and family and move to California, Sofia followed intuition to get her first modeling gig and official start.  
What I love most about Cancer women is their genuine concern and care for those they work with and for. Instead of doing the job just to do it, the Cancer woman delivers quality work with inner strength, emotional awareness, and team support. 
Because of her ruling water nature, Sofia was most likely drawn to a career in acting because it allowed her to showcase and utilize her deeply emotional nature. Instead of suppressing her emotions, she can use them as inspiration for her character roles. 
Although there are many successful Cancer women in the television and film industry, Sofia stands out above the rest. 
With Mars, which influences behavior, in courageous Leo, Sofia has overcome the timid Cancer Crab and proudly prances across any stage. 
Interestingly, Sofia's Jupiter—which affects the type of opportunities she will attract—is in Capricorn, the sign most associated with long-term wealth, public status, and recognized achievements. 
I believe Sofia's Jupiter in Capricorn placement is one of the primary reasons she had such a steady and well-earned rise to fame. 
From being named the official face of CoverGirl to receiving a star on the Walk of Fame, Sofia's success, highlighted by Jupiter, only grows with time. 
Sofia Vergara in Love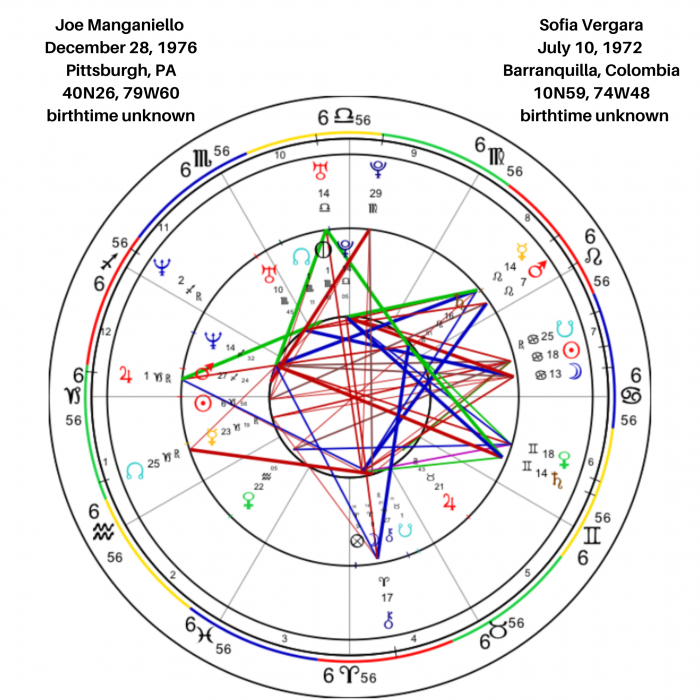 When it comes to relationships, Sofia Vergara is most likely what I would call an expressive lover. 
With Venus, the planet of love, in Gemini—a mutable air sign that enjoys communication and learning new things—Sofia is most attracted to men who know what they're doing and love to talk. 
What does she want to talk about? The list can go on and on. 
Individuals with Venus in Gemini are always thinking about their lover and trying to dissect their thoughts.
In her earlier years, her inability to express her emotions healthily most likely led her to choose non-stimulating relationships that didn't feed her hunger for self-development and soul growth. 
On the other hand, I believe overcoming thyroid cancer was instrumental in helping Sofia realize that she was too good of a woman to continue settling in love. 
So after years of dating insignificant men that no longer sparked her mental interest and ultimately went nowhere (like her ex-fiancé Nick Loeb), Sofia fell in love and married her best friend, True Blood star Joe Manganiello. 
And of course, in true Cancer fashion, Sofia and Joe married on the beach in November 2015. 
What I find most interesting about Sofia's marriage to Joe is his Capricorn Sun placement, which is Cancer's opposite sign. Because Cancer and Capricorn are polar of one another, they will have a natural, easygoing connection that can continuously build over time.
If I could give Sofia advice based on her marriage, I would say a job well done! 
Based on Joe's Sun sign placements, the two co-stars have a lot in common, including their shared dedication to hard work and building a legacy for the future. 
Overall, Sofia's iconic laugh, breathtaking smile, and charming accent are what make her one of the most influential and well-paid television actresses of all time. 
As a leading lady of Cancer, Sofia represents the persevering water spirit. She is a symbol for all women that proves no matter where you come from, anything is possible! 
Did anything about Sofia's background surprise you? Are you hoping to learn the astrological background of any other stars? I'd love to hear your thoughts and suggestions in the comments!
Love,
Anna