Being with a Libra man can be one of the most heartwarming and romantic relationships you will ever experience. This must be because the sign of Libra is ruled by Venus, the planet of love, relationships, and beauty.
These guys are all about loving wholeheartedly. Nothing makes them happier than being in love and having a partner to share their life with. To them, being partnered up makes life just a little more interesting.
Did you know that Libras are Air signs? This means that communication and mental connection is pretty darn important to them! They love to be able to talk and share in an intelligent conversation with their partner. This is one of the most important aspects of a relationship for them.
Yes, as you can imagine, having a ruling sign like Venus can make your Libra man a little vain and focused on aesthetics, but there is a side to them that is really concerned with justice, ethics, and doing what is right.
They absolutely love to talk about what is going on in the world. They care deeply about social reform and believe in doing what is right. They are a lot more intelligent than they might first let on.
So, seeing as your Libra man is so smart, you can only imagine that he loves to talk. What exactly should you say to him that will make his heart skip a beat? Well, if you're interested in learning what a Libra man loves to hear from a woman, then please continue reading!
4 Things A Libra Man Loves To Hear From A Woman
1. "I Love How You Always Do What Is Right"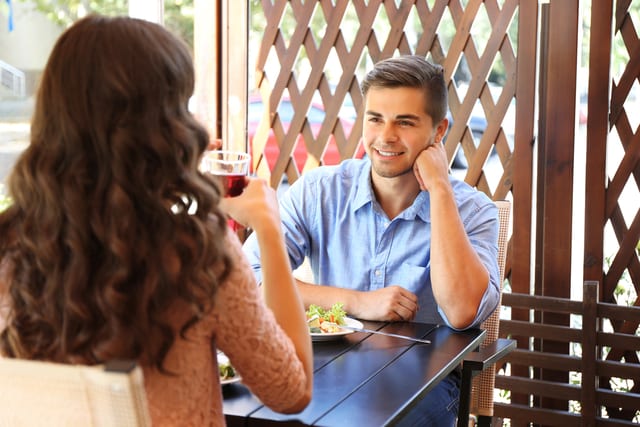 One of the most beautiful qualities a Libra man has is his yearning to create harmony in the world around him. This means he is often found acting as a mediator, trying to solve any problem that comes before him.
All he really wants is peace in the world, so when he sees an injustice taking place, he is quick to step in and try his best to make it right. He really has a soft spot for people who are suffering and will do what he can to fix things.
He has an extremely objective mind and can see a situation from all kinds of angles. This makes him the perfect person to advocate for people's rights because he can see what needs fixing. It'll mean a lot to him if he realizes that you notice this quality in him and let him know how amazing you think he is for always offering a helping hand.
2."You Look Amazing Tonight / I Love How You Always Make An Effort"
The Libra man is always concerned with the way he looks. He knows how important appearances are, as well as putting his best foot forward. There is a lot of value in how people perceive your worth by how much effort you put into how you look.
Plus, a Libra guy is really attuned to aesthetics. It must be that Venus rulership again! He has his finger on the pulse of all the best brands and highest quality garments. He has champagne tastes, that is for sure.
He believes in quality over quantity and enjoys putting an effort into his appearance. Making himself attractive is something he thoroughly enjoys doing. It feels a bit like a self-care practice for him. 
He also knows how powerful it feels to have an attractive partner, so if he puts in effort know that he has you in mind and wants you to think that he's looking good. It is really important that you praise him for his appearance. 
So always let him know how amazing you think he looks! Flattery will honestly get you everywhere with him. This guy loves compliments but of course, be genuine about it. Libras really don't like liars or fakers. 
3. "You Make Me Laugh So Much"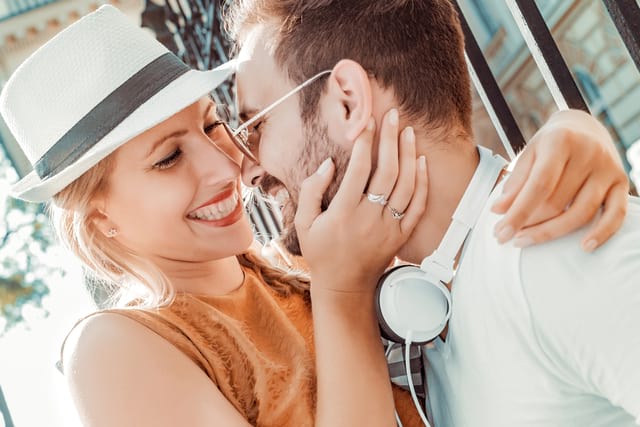 Libra men are incredibly smart and witty. These charming guys know how to make any woman laugh with the way they see the world. This guy is an excellent flirt and knows how to woo any woman with his charming words.
He enjoys building people up and making them feel good about themselves. He can sweet-talk his way into any woman's heart. He has a talent for this and knows how to weave words in a fun and interesting way.
You will definitely belly laugh your way through a relationship with your Libra man. Sharing humor with him is something he thinks is really important in a romance. It is a beautiful way to connect with someone and you both end up feeling good about yourselves.
Whenever a Libra man makes you happy or has you in stitches about what he has said, then you need to let him know how great you think he is. This will undoubtedly boost his confidence and encourage him to continue to make you feel good. He's a consummate people pleaser, so when you feel good, he feels good!
4. "No One Understands Me As You Do"
Libras often get the misguided reputation of being superficial and lacking in depth but this really isn't true. Let's just say that that is their party persona, not the person they truly are when you strip everything back and see their core.
They are good at sizing people up and understanding who they are and what drives them in life. Remember, relationships and people mean everything to a Libra, so it is kind of their life's quest to figure out who people are and what makes them tick!
He will have many interesting deductions about why people act the way they do and he will always be able to give a very interesting perspective on a situation. It might not look like it, but your Libra man is always silently observing and analyzing people.
Whenever you're in a tough situation, you should ask the advice of your Libra man. I can guarantee that he will make you see things from a different angle and perhaps help you to deal with the situation in a different way.
Remember that your Libra man has the most amazing talent of always being able to compromise and figure out what works for all parties. You should make use of this if you're in a relationship with him.
When a Libra man is interested in a woman, he takes his time trying to get to know her to understand who she is. He wants to know her to her core. He wants to understand her drives and motivations in life.
If you let your Libra man know that you feel so deeply connected and understood by him, it will feel like he has done a good job. It is so important to him to feel seen and appreciated by his partner because this is what he strives to do for her. 
Read next: How To Communicate Better With Your Partner, Based On Your Mercury Sign
My Final Thoughts
Libra men are honestly some of the most esteemed and romantic gentlemen you will ever lay your eyes on. If you're looking for love and romance then a Libra is definitely the way to go. This man will know exactly what to do to sweep you off your feet.
This guy just loves to be in relationships. He is built for commitment but he also has a fun and flirty side! Don't think that a relationship with your Libra man will ever lack passion, he is so romantic and thoughtful. It is a pleasure to be involved with a Libra man.
Just be sure not to expect all the romance to come from his side, you also need to put in the work. So please be sure to listen to the suggestions I have given you here in this article. It will go a long way with your Libra man.
He really adores being complimented and recognized for the wonderful things he does. So, whenever he makes you feel good be sure to let him know because he loves hearing it! Turning on his brain is the way to melt his heart.
Are you dating a Libra man? Have you noticed how romantic he can be? What are your favorite qualities you have seen in him? What was the thing that drew you to him in the first place? I am so curious to hear so please leave me a comment in the section below. Perhaps you know something about these guys that I don't?
Are you wondering how you can live the life you have always dreamed of but unsure what steps you need to take? Then perhaps you should look into my new VIP offering. I only have limited spots left, so please don't wait too long to take the plunge! I promise you it is really worth it!
Wishing you so much love.
Your friend and Relationship Astrologer,
Anna Kovach
---
---