Julia Roberts is known for her roles in romantic comedies, but what does real-life love look like for her? What does Astrology have to say about her long-term potential with husband Danny Moder? Find out with my celebrity relationship analysis here!
Do you remember the scene in Runaway Bride where Julia Roberts is sitting in the diner trying every egg combination possible to figure out what she likes? 
Well, if you took a look at her dating history, her role is a reflection of her real life.
If you're wondering why the Steel Magnolias superstar chose Danny Moder to be her husband and best friend of eighteen years, the answer can be found in their shared synastry and individual birth charts. 
Although Astrology isn't a magical decoder to every aspect of your relationships, it does give you an accurate depiction of a relationship's potential for marriage, as well as strengths and weaknesses. 
So before we uncover the mystery of how and why the "Runaway Bride" decided to throw away her running shoes, let's take a deeper look at who Julia Roberts and husband Danny Moder are as individuals. 
Overview of Julia Roberts's Birth Chart

American actress, model, and mama Julia Roberts is hands down one of the most famous and beloved actresses of all time. 
Through her legendary films Runaway Bride, Pretty Woman, and Steel Magnolias, Julia Roberts has been an inspiration for many women—and heartthrob for many men. 
But like many of the groundbreaking roles she has played, Julia Roberts's love life has been far from simple. 
Born on October 28, 1967, in Atlanta, Georgia, Julia is a sensitive Cancer Rising, Scorpio Sun, and Leo Moon. 
As a Cancer Rising, many of her experiences in life will be centered around her search for safety, security, and success in love and business. 
Due to the divorce of her parents and the death of her father soon after, Julia endured enormous heartache at a very young age. 
Through my years as a relationship astrologer, I've found that most women with Cancer Rising or strong Cancer placements tend to have family issues that are played out in their adult lives. 
However, I believe Julia's Cancer Rising speaks highly to the strong female lead roles she played throughout the first half of her career. 
Born at the very beginning of Scorpio Season, Julia's Scorpio Sun rests intensely in her fourth house. As a fourth house Scorpio Sun, Julia will find her inspiration through the constant evolution of her sexuality and journey as a woman. 
In her early years, this placement may have caused her to be more erratic and restless, which can be seen in her long list of short flings, broken engagements, and shotgun weddings. 
In one case, Julia left fiancée and co-star Kiefer Sutherland at the altar and ran off with fellow actor Jason Patric. 
With the Moon placed in her second house of Leo, I believe a lack of confidence and security in who she was as a person may have caused the wanderlust.
Julia's second house Moon placement also indicates why she dated men that she worked with on films or were involved in the entertainment industry themselves. However, after a four-year relationship with Benjamin Bratt, Julia met cameraman Danny Moder, whom she married in July 2002 at her New Mexico estate. 
Although Julia is what you would call a modern-day wild woman, her Venus in Virgo and Mars in Capricorn secretly want a stable and reliable partner that she can depend on. 
I believe Julia's earthy Venus and Mars placements are the reason why she chose to settle down in her early thirties, after she had gotten all the excess Scorpio energy out of her system. 
It was only a matter of time before the quiet and mysterious Danny Moder, a Cancer Moon and Mars in Scorpio man, stole the heart (and shoes) of the famous Runaway Bride. 
Overview of Danny Moder's Birth Chart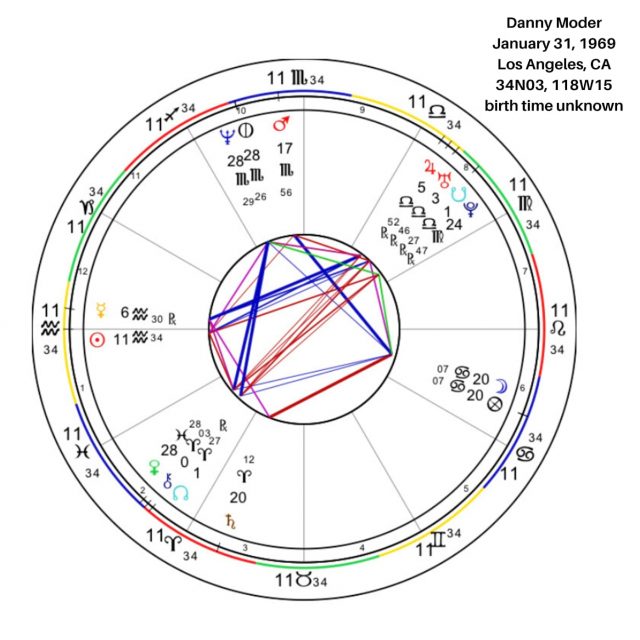 Quiet, reserved, technological, and innovative would be a few adjectives to describe the famous husband of Julia Roberts, Danny Moder.
Born on January 31, 1969, in Los Angeles, California, to a family of producers, Danny Moder was familiar with his destiny as a cameraman, cinematographer, and techno-wizard as a child.
With his progressive and independent Aquarius Sun, attentive Cancer Moon, and confident Mars in Scorpio, Danny Moder's mysteriousness was intriguing to Julia Roberts.
Unlike other men who threw themselves at her due to her stardom, Danny Moder probably came across as someone intellectually grounded with great listening abilities and a kind heart—everything that Julia Roberts needs.
Because I do not know Danny's precise birth time, I cannot give you his house placements, but his Sun sign reading will do for our purposes.
Because Danny is an Aquarius Sun with a Venus in Pisces, he takes a more introspective and conservative approach to love.
When it comes to romance, Danny is intuitive, charming, and sensitive. Instead of asking you what you want or need, he will quietly observe you, waiting for the perfect moment to strike.
As for his career, I'm not surprised that he chose a more behind-the-scenes role, especially with his Venus and Mars both in water signs.
Danny began his career in film as a production assistant. He made his big break as a cinematographer in the short comedy film Kid Quick in 2000. Since then, Danny has worked in the camera and electrical department on big-picture films such as Mr. & Mrs. Smith and Spider-Man 3.
With Danny's Jupiter in Libra, I'm not surprised that he (like his wife) gravitates towards lovers in their industry.
Like Julia, Danny also previously wed. He was married to high-profile makeup artist Vera Steimberg from 1997 to 2002. They were divorced the same year he married Julia.
Danny met Julia on the set of The Mexican in 2000 while he was married to Vera, although Julia and Danny did not officially start dating until 2001. They married two years later on July 4, right after Danny's divorce was finalized.
Julia Roberts and Danny Moder Synastry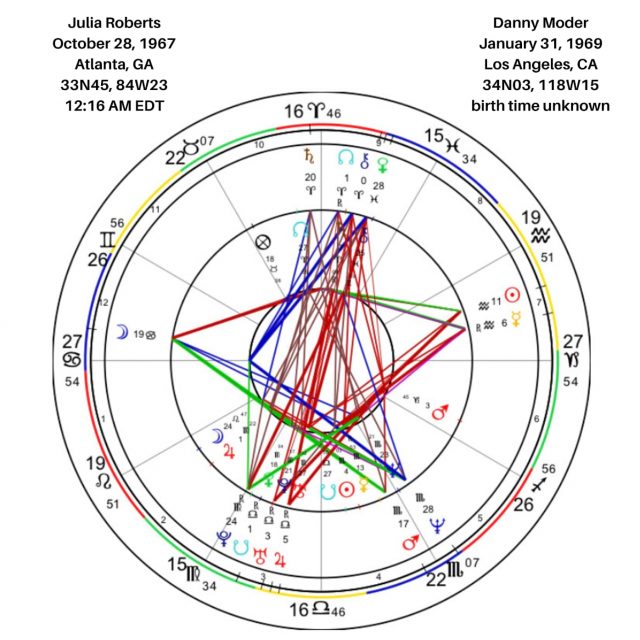 When you look at the shared synastry of Julia Roberts and Danny Moder, you may be wondering what the two have in common outside of their careers. 
 But if you look deeper, you'll see that their mystery, their sexuality, and their love for intensity and drama is what binds them—what makes them call each other home. 
To further understand who Julia Roberts and Danny Moder are as a couple, let's explore their Sun and Moon sign compatibility. 
Julia Roberts and Danny Moder Sun Sign Compatibility
When you put a Scorpio Sun and an Aquarius Sun together, what do you think that makes?
I've found over the years that this combination makes for otherworldly conversations, mind-blowing sex, and strong disagreements.
In one breath, they are the best of friends. In the next, they are the worst enemies. The longevity of this couple comes down to maturity and emotional growth.
As a strong Scorpio Sun, Julia is all about emotion, intuition, and depth. She is most attracted to Danny when he is open and vulnerable with her, and with his Mars in Scorpio, this is his everyday demeanor.
Danny, on the other hand, is a laid-back Aquarius Sun, so his disposition is one that requires self-discipline and tact, something that Julia Roberts can learn from him.
When it comes down to how well their Sun signs work together, I believe it depends on the hour and the day.
Will this couple have great times? Absolutely. But as two strong-minded fixed signs, they will have to learn how to compromise.
Family issues at the beginning of their relationship may have posed a threat, as you can see with Danny's previous marriage to Vera.
However, the new couple moved forward and created a quiet and simple life in Malibu. Raising their children will be the highlight of both their lives.
Read next: The Dark, the Light, the Sexy—the Inside Scoop on Angelina Jolie's Birth Chart
Julia Roberts and Danny Moder Moon Sign Compatibility
Because I do not have Danny Moder's accurate birth time, we must assume that his Moon sign is in Cancer.
I believe this would be the most logical explanation as it would align with Julia's Cancer Rising. And I've found that couples whose primary placements reflect each other's Rising signs have the best chance of survival.
With Julia's Leo Moon positioned in her second house, she craves both stability and adventure. This need for excitement often inspires her to take unnecessary risks with her career and overall life values.
With Danny's calming Cancer Moon, he encourages Julia to slow down, settle in, and find the peace that she is looking for within herself.
If I could give Danny and Julia advice based on their Moon sign compatibility, I would advise them to listen and allow the other to openly express.
Sometimes Julia's fire can scorch Danny's water, and with a strong Aquarius Sun, he may retreat into his shell rather than attack. And with Julia's Scorpio placements, she finds this neglectful and will act out maliciously for attention, so instead of creating more drama, Danny and Julia, you must have honest conversations with one another. This is the key to your marital success.
If I had to give Julia Roberts and Danny Moder a love compatibility score for their shared synastry and primary placements, I would give them a 6 out of 10.
Although their marriage has lasted for almost eighteen years, I believe there may be more hidden secrets in the closet than we know.
Are you dating an Aquarius man? Would you like to know the best ways to build a more sustaining and fulfilling love?
If so, check out my guide Aquarius Man Secrets! It will take you step-by-step down the path to building an authentic relationship founded on true love.
Want to find out if you and your partner are compatible? Take my free love compatibility quiz. I'd love to hear your questions and experiences in the (anonymous) comments section!
Your sister and friend,
Anna Kovach
---
---