As one of America's favorite sweethearts, Cindy Crawford has caught the eye of millions of men—but she settled down with businessman Rande Gerber and has stayed with him for more than two decades! Find out what Astrology has to say about these two with my latest love compatibility analysis!
From the cover of Vogue to Paris Fashion Week, Cindy Crawford's world-renowned beauty has stolen the heart of many—but most importantly her husband of twenty-two years and counting, Rande Gerber.
Although Cindy Crawford was once married to actor Richard Gere, a well-known Virgo Sun, it was Rande Gerber who stole her heart for the long haul.
So, what was it about the former model and handsome nightlife entrepreneur that attracted Cindy Crawford?
Was it his grounded, security-driven Taurus Sun that made her Pisces Sun feel safe and protected? Or was it his Jupiter in Pisces placement that helped her turn her creative passions into financial success?
After looking deeper into their birth charts and shared relationship synastry, I believe it is a combination of shared goals and common interests that brought these two models and entrepreneurs together.
But before we take a deeper look into their relationship, let us explore who Cindy Crawford and Rande Gerber are as individuals.
Overview of Cindy Crawford's Birth Chart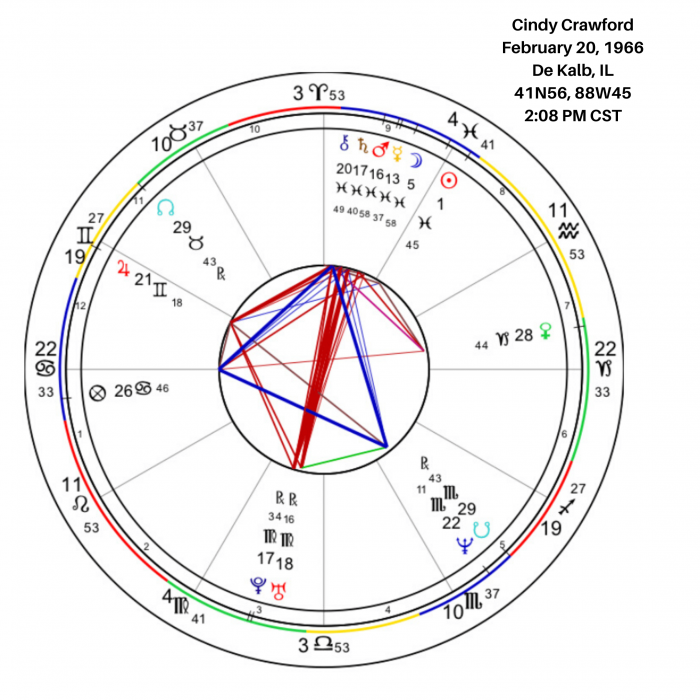 When you think of Cindy Crawford, you probably conjure up her enviable athletic figure, legendary beauty mark, and charming spirit.
With her many iconic photoshoots, catwalks, or award-winning dress designs, Cindy Crawford is—and will always be—one of the world's most beloved supermodels.
Born on February 20, 1966, in Dekalb, Illinois, Cindy Crawford is a Pisces Sun, Cancer Rising, and Pisces Moon.
Being dominated by water (she only has one planet in Earth and one planet in air), Cindy is an emotionally driven woman.
With Cindy's Pisces Sun placed on the eighth house cusp of secrets and sexuality, I am not surprised that she let her latent beauty go unnoticed until a photoshoot in high school led to her first magazine cover.
However, with Cindy's Moon, Mercury, Mars, and Saturn placed in her ninth house of Pisces, it was her destiny to live an international life that allowed her to experience new cultures and the elite levels of society.
With the ninth house ruled by Sagittarius, Cindy's Pisces placements influence her to be courageous and outspoken, even though her friends and family would tell you that she can be a very shy and quiet person.
Cindy's ninth house placements also make her a very studious and intellectually gifted woman. In high school, she was her class valedictorian. She won a scholarship to study chemical engineering in college by winning runner up at the Elite Model Look of the Year Contest at just seventeen.
Although she was intellectually gifted, Cindy's love of fashion and design (Venus in Capricorn!) inspired her to drop out of college to pursue a full-time career in modeling. This led her to move to New York in 1986 after she signed a contract with Elite New York Model Management.
Regarding love, Venus placed in Cindy's seventh house of Capricorn inspired her to date a man who is wealthy, mature, and reliable.
Although Cindy was previously married, it was her union with Rande that made her feel most alive and true.
With Rande's Jupiter placed in Cindy's ninth house of exploration and expansion, they share common beliefs about the universe, business, and how things work. This is extremely fortunate in terms of marriage and romance.
Overview of Rande Gerber's Birth Chart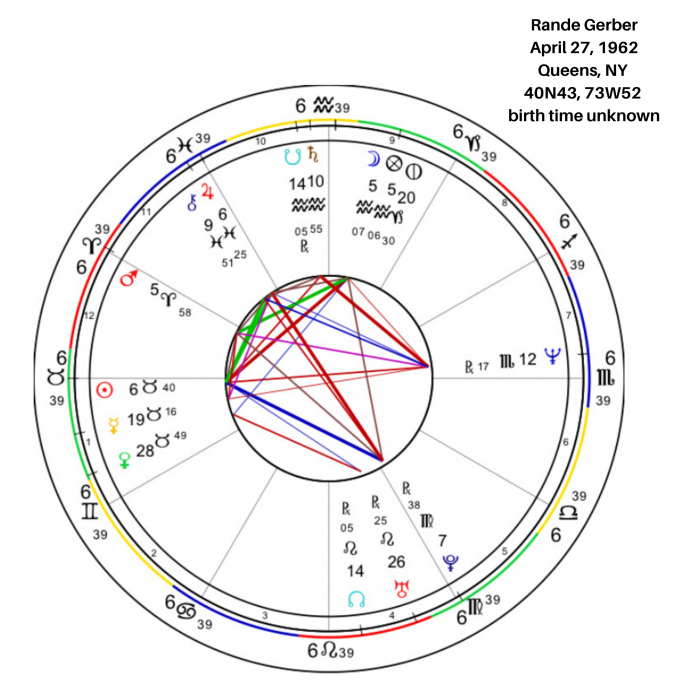 As an entertainment executive, marketing wiz, former model, and long-time husband of Cindy Crawford, Rande Gerber is arguably one of the world's luckiest men!
Not only is he known for winning the heart of America's sweetheart, but he's also one of the co-founders (along with George Clooney) of one of the fastest-growing Tequila brands in the world, Casamigos Tequila.
A strong Taurus Sun born on April 27, 1962, in Queens, New York, Rande chose to pursue a career in the hospitality and spirits industry—which makes perfect sense astrologically. With Venus as his dominant ruler, Rande most likely finds comfort and power in helping others have a good time.  
Unlike his wife, Cindy, Rande's Moon is not in the same sign as his Sun. Rande's Moon is in Aquarius, which makes him more open-minded, progressive, and forward-thinking than his water-driven wife.
Although Rande can sometimes become overwhelmed or frustrated with Cindy's emotional nature, he finds peace in her ability to help him communicate how he feels.
When it comes to love, Rande is as straightforward and assertive as they come.
With his Mars in Aries and Venus in Taurus, he is a man who knows what he wants and will go above and beyond to impress his partner.
Cindy Crawford and Rande Gerber Synastry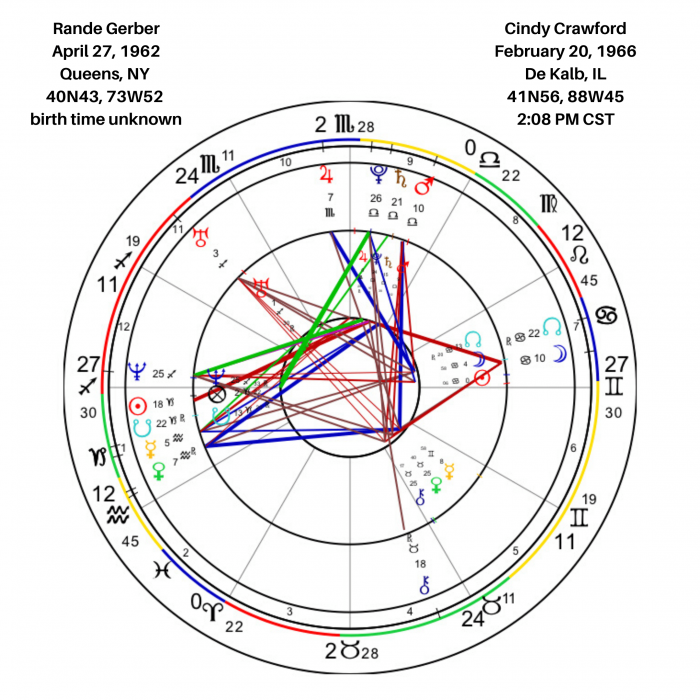 After twenty-two years of marriage, two children (who both pursued modeling like their parents), and several businesses, I believe Cindy's water nature falls more in love with Rande's nature with time.
As a Taurus Sun, Rande tends to be a man of his word and knows exactly what to do to make sure Cindy feels loved and cared for.
But even though I feel their charts are very compatible, I believe there may be trouble beneath the surface when it comes to their Pisces and Aquarius Moons.
So, to explore the truth behind who Cindy Crawford and Rande Gerber are as a couple, let's explore their Sun and Moon sign compatibility.
Cindy Crawford and Rande Gerber Sun Sign Compatibility 
When it comes to the Sun Sign compatibility of Cindy Crawford and Rande Gerber, I would say they are a solid match.
With Pisces and Taurus energy being in favor of one another, their opposite but shared yin (feminine) nature gives them an easiness that other couples may never experience.
I have found that Pisces Suns tend to take more receptive roles when they are coupled with a Taurus. So, in their relationship, I am sure that Cindy allows Rande to take the lead.
However, Rande is turned on by Cindy's receptiveness, and in return, he will listen and oblige her needs.
Although some people would find this relationship boring and monotonous, they enjoy their stable and predictable life.
With Cindy's Sun in her eighth house, she is more private and reserved than most Pisces Suns; therefore, her love is slow and patient and will build more passion with time.
If I could give Cindy and Rande some advice, I would suggest they do more fun and romantic things together to keep their passion burning and alive.
Even though Cindy's placements are primarily in a fire house, fire is still absent from her chart. By consciously creating experiences that inspire romance, they will keep their marriage fresh.
Cindy Crawford and Rande Gerber Moon Sign Compatibility 
If there was ever trouble in paradise, it would be because of their incompatible Moon signs.
For these Pisces and Aquarius Moons, their ideas of emotional maturity are not the same.
Where Cindy prefers to express and talk about her feelings, Rande would prefer to reflect inwardly and move forward without interference.
At the beginning of their marriage, this may have been a major problem. It may have been that Rande was more emotionally detached, especially after they had children, which left Cindy feeling neglected and alone.
However, with time and cooperation, Rande will have learned how to handle Cindy's deep and expansive emotions.
Although Cindy finds comfort in being a mother to her children and icon to woman around the world, it's important for her ninth house Pisces Moon to find independence and learn how to be emotionally fulfilled on her own.
I have found that Cancer Rising women with Pisces Moons may struggle with their identity in their later years, but with Cindy's influence and wealth, Rande will encourage her to reimagine her brand and evolve.
On the other hand, Cindy's Pisces Moon encourages Rande to slow down and be more sincere with his actions, especially in business.
If I could give Cindy and Rande some advice based on their Moon sign compatibility, I would suggest being more open-minded about how things should be done. If either tries too hard to make the other change, they could end up creating more resentment than love, so they should focus on what works.
Read next: Celebrity Love Compatibility: The Truth About Julia Roberts and Danny Moder
Final Thoughts
Based on their synastry and primary placements, I would give Rande and Cindy an 8 out of 10 in terms of love compatibility.
Although they have different ways of being and interpreting the world, their shared purposes of family, business, and legacy help them overcome tough times, especially when it comes to the media and parenting.
If you are in a relationship or interested in someone new, take my free love compatibility quiz to see if you and your love are matched!
Do you think these two have what it takes to last a lifetime? Who are your favorite celeb couples? I'd love to hear from you in the comments!
Your sister and relationship astrologer,
Anna Kovach