The year 2022 will bring many exciting changes. For some signs, though, dynamic change and new opportunities can also carry a lot of stress. The best way to approach a year filled with turning points is by setting goals.
But not just any goals! You'll want to focus on goals that help you to align with the direction the planets are moving so that you can easily manifest what you desire and avoid pitfalls that come from being off balance.
Here are the top goals each sign should set in 2022 to maximize the power of the planets and the stars.
PRO TIP: For more accuracy, look for goals for your Sun, Moon and Rising sign. (If you don't know your Moon or Rising sign – check out here how to make a free birth chart)
Aries' 2022 Goals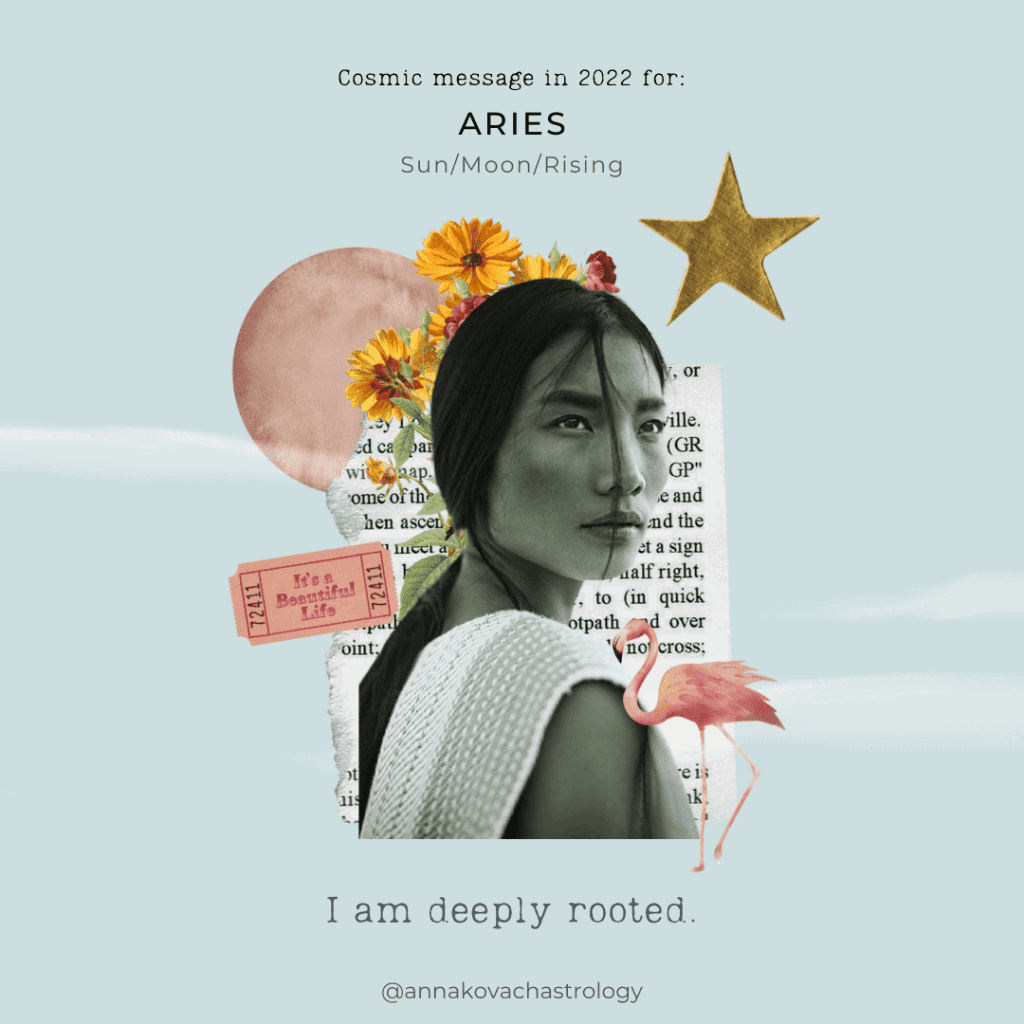 2022 Affirmation for Aries: I am deeply rooted.
Your ruling planet is Mars and this planet will make a trek from Capricorn to Gemini over the course of 2022. This will churn up issues of career and stability.
Though you may be tempted to break away from tradition and go it alone, as in taking on freelance work or unconventional work in the spring, the overall goal for you next year when it comes to career and finance needs to be focused on setting down roots. As well as finding unique ways to use your knowledge of history and tradition to discover what path to build on and what traditions to break free from.
Communication and writing may be instrumental in your career path next year as well. Taking a class or training that can help you spruce up your resume and enhancing your professional path can be helpful in the fall.
In love and romance, take the first quarter of the year to work on setting down your roots and making a commitment to home, family, and love. In the spring, your mission is to balance your individual needs and obligations to others. This will be a good time to build up your social network.
Taurus' 2022 Goals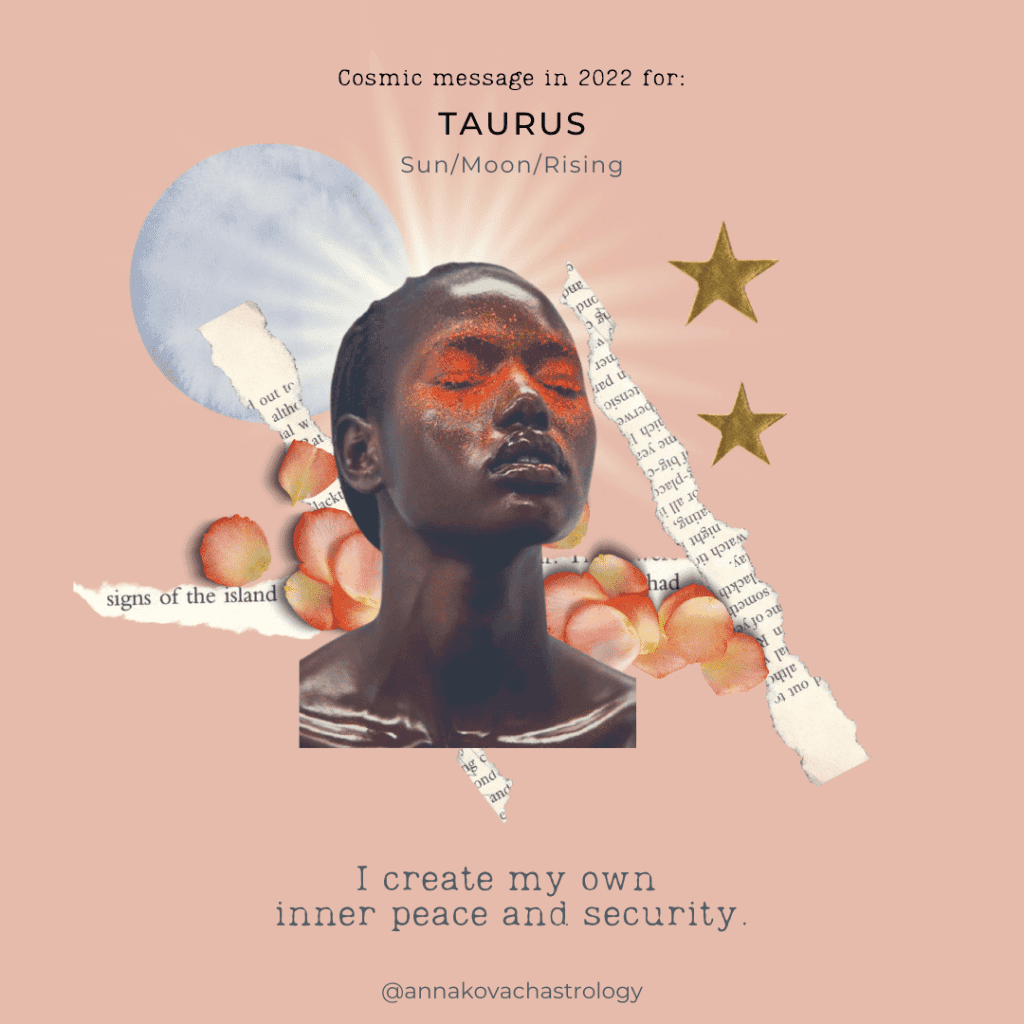 2022 Affirmation for Taurus: I create my own inner peace and security.
Uranus continues to trek through your sign in 2022, while finalizing this transit that has been going on for several years already. Uranus goes retrograde in your sign on August 23rd, and this can cause you to retread on old ground from fall of 2021.
For Taurus, the top goals to set for 2022 should focus on creating inner peace and stability. Uranus creates a rocky road to success and can overwhelm your desire for peace and comfort.
Set a goal of experimenting with one risky venture be it in style, relationships, or finances, as Uranus is urging you to break free from your typically carefully-controlled life. Get comfortable with the unknown and make it a goal to experiment with accepting unusual surprises.
In love and romance, next year can bring unusual developments that challenge your traditional views of love, beauty, and relationships. This is not a year to get too attached to specific definitions in relationships, as your ideas are bound to dramatically change.
Gemini's 2022 Goals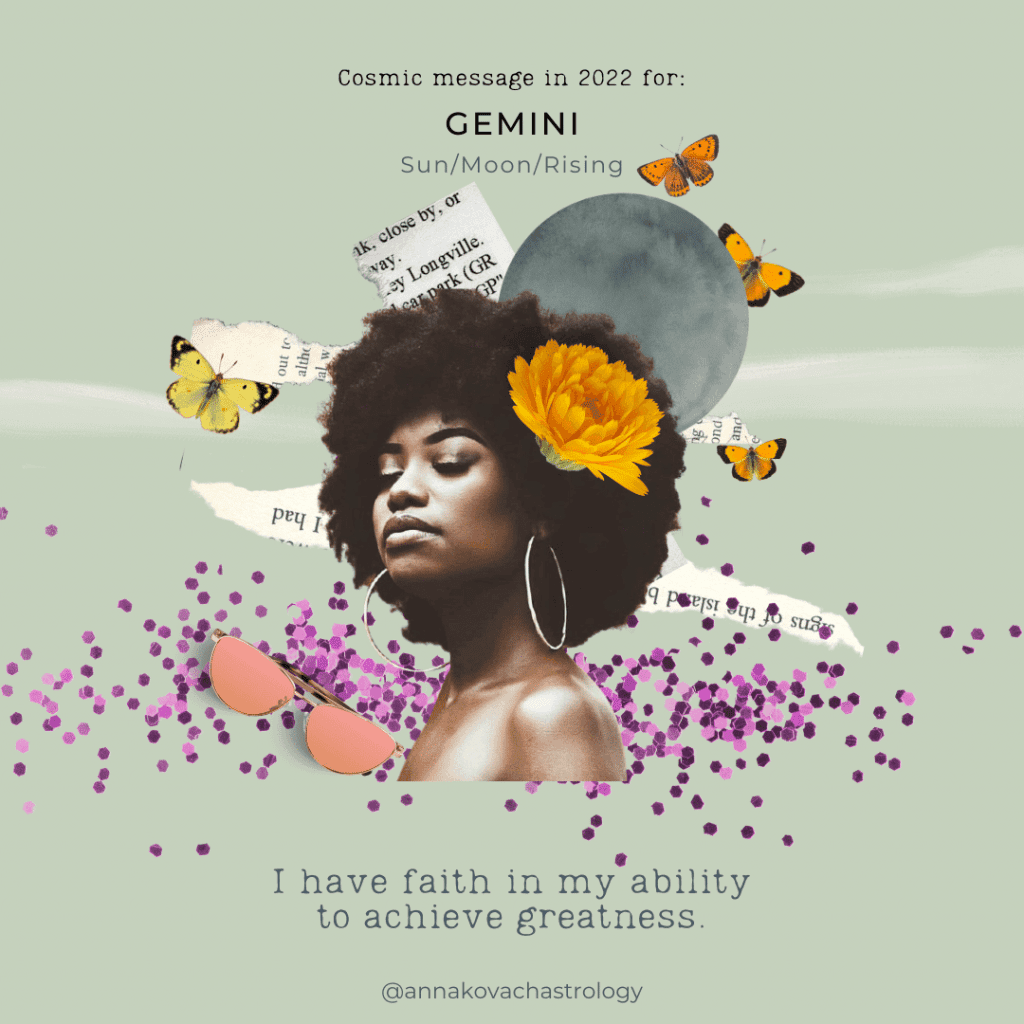 2022 Affirmation for Gemini: I have faith in my ability to achieve greatness.
2022 brings Gemini many exciting opportunities to explore new studies. Not only things that are new to you personally, but studies that literally haven't existed previously. This is an exciting time for you, Gemini but you may feel like taking on too much all at once.
Set a goal of expanding your knowledge base and exploring new concepts around technology, culture, and lifestyle. Don't judge or disregard new trends until you've explored the origin and development of these new ideas and trends.
Setting a goal to travel to a place on your bucket list, to expand your social network, and to learn a new trade or technological skill will serve you well both in romance and in your career path.
In all this excitement to learn and explore, you may overlook the importance of budgeting. Keep a firm but realistic budget and set a financial goal to cover your travel plans and the classes you'll want to take.
Cancer's 2022 Goals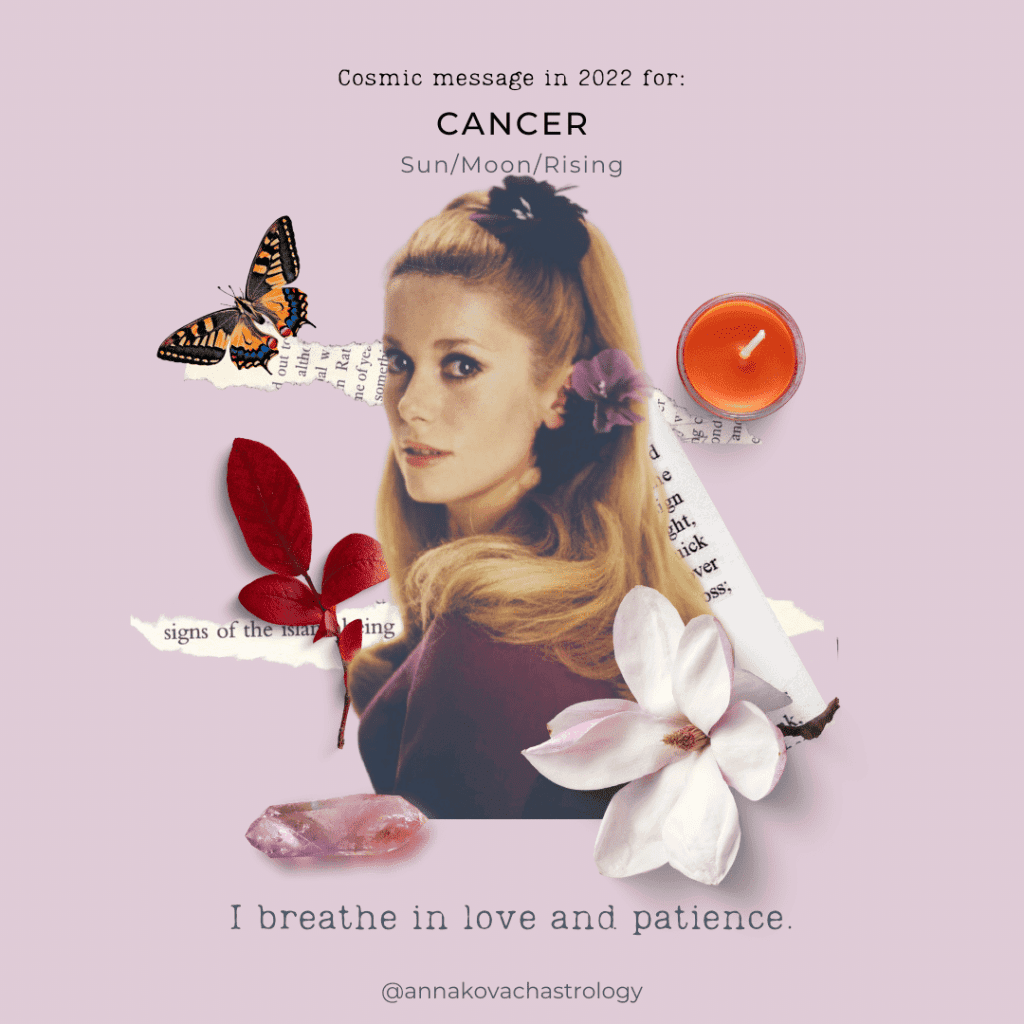 2022 Affirmation for Cancer: I breathe in love and patience.
Security-loving Cancer may have difficulty coping with the numerous changes and upheaval that 2022 brings. But there are some goals Cancer can set to make the most of this exciting and dynamic year.
First and foremost, Cancer's top goal should be to become as financially independent as possible. This is a good year for Cancer to find the motivation to pay off debts and resolve budgetary issues. Cancer can feel more empowered now knowing that they are working to get ahead of the game financially.
During the period of Jupiter and Neptune conjunction in Pisces during this time, Cancer may need to set a goal of daily meditation in order to make the most of this energy that can enhance Cancer's intuitive energy but can also lead Cancer to amplify every emotion.
The year 2022 will bring erratic changes that shock and surprise. Cancer will find opportunities to grow and thrive but will need to express themselves through creative endeavors that help them channel their stress and anxiety. Set goals related to prioritizing your creative outlets.
Leo's 2022 Goals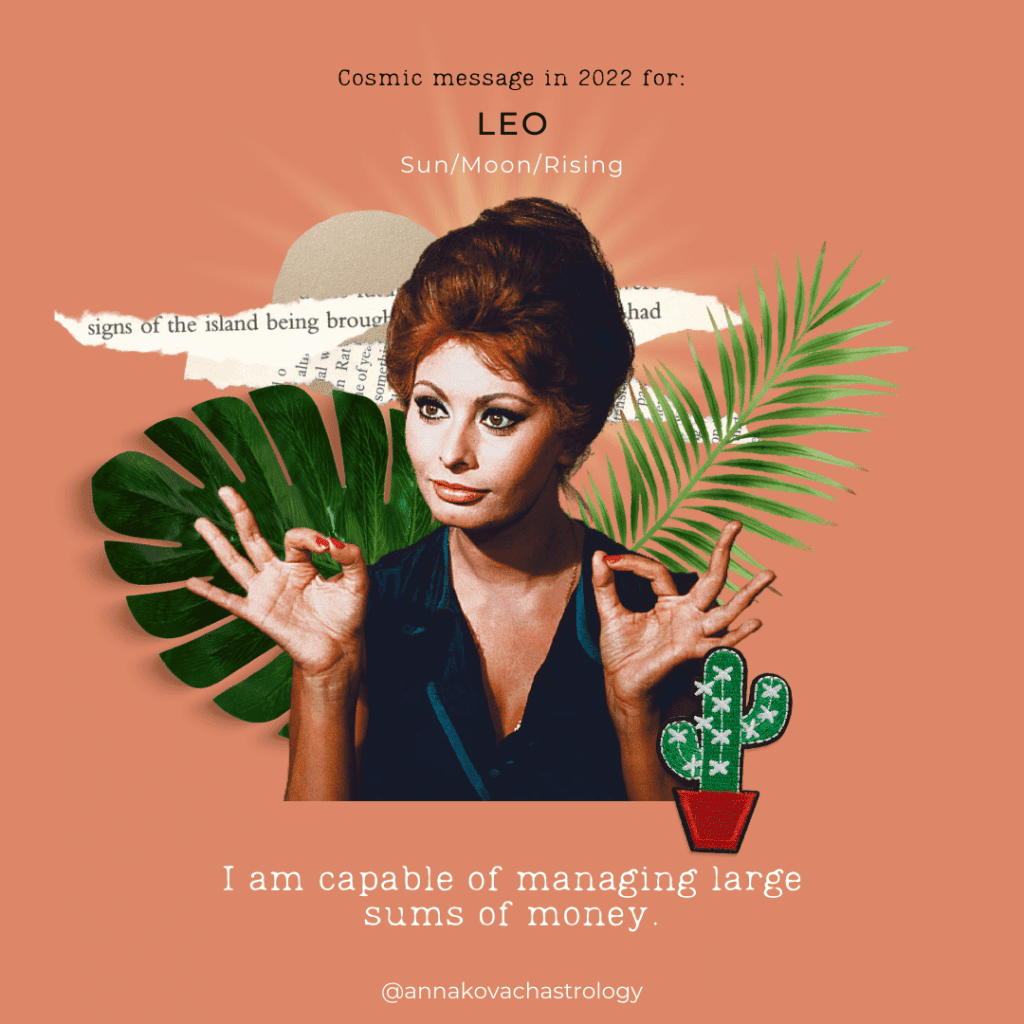 2022 Affirmation for Leo: I am capable of managing large sums of money.
During this exciting year, Leo may enjoy riding the wave of change and unexpected breakthroughs. Leo can find empowerment during the turbulent year ahead but will have to stick to a few key goals in order to succeed.
Leo should set a goal related to budgeting. This is not to restrict spending as much as it is to hold Leo back from jumping on financial bandwagons. The temptation to invest in something new, risky, and untested will be amplified in 2022. Leo should set a goal related to testing the waters before putting all of their eggs in one basket financially.
It may be a goal of setting aside a small percentage of income to explore these new investments, for example. It could also be a goal of sticking to a budget while researching new financial strategies to avoid impulsive investments.
In 2022, Leo can also set a goal of reconnecting with friends and growing their social network, especially on social media. This can be a great year for love for Leo, but first and foremost, Leo needs to pay attention to their circle of friends and not become disconnected.
Leo can also set a goal related to travel in 2022 because this is a critical time to expand your perspective and explore new places. Pick one location from your bucket list and make a commitment to prioritize this trip.
Virgo's 2022 Goals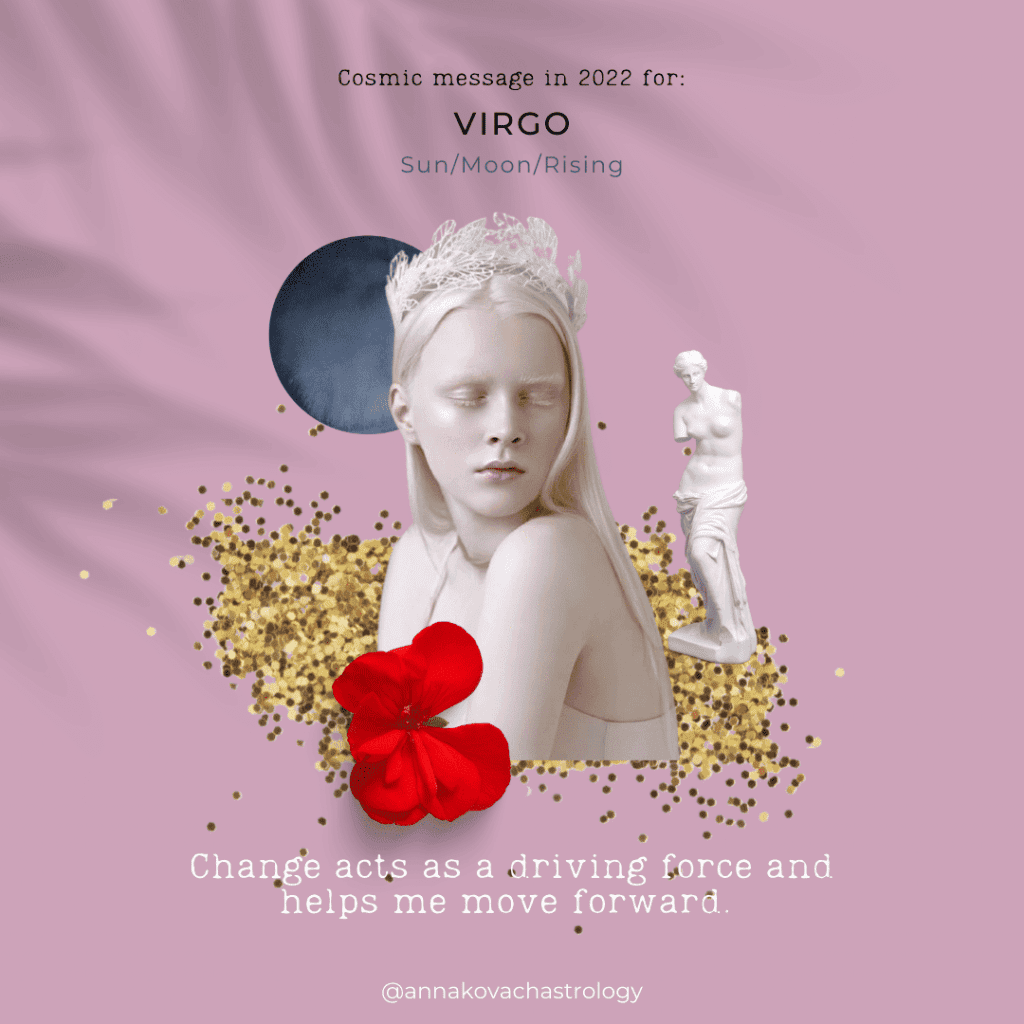 2022 Affirmation for Virgo: Change acts as a driving force and helps me move forward.
No one loves setting goals more than Virgo! Organized and orderly, Virgo will definitely thrive in 2022 if they have a structured set of priorities and goals to follow.
However, one of the top goals for Virgo in 2022 needs to be getting comfortable with change. Maybe Virgo can commit to disrupting their own routines one time each week. Or trying one new thing each month. However you cut it, Virgo will have a much easier time in 2022 if they work on embracing change and become more flexible.
Another goal for Virgo is to get back into a healthy routine in 2022. This is an important year for Virgo to set a new foundation that will help them improve physical health. This can include diet and exercise. But it can also include committing to health regardless of disruptions that come up during your day.
And finally, Virgo, 2022 is the year that you'll have to get out more – whether you like it or not. Challenge yourself to be more social. This can be your year for love but only if you start setting goals that get you out in public or pursuing your interests. You're comfortable hiding away at work or at home, but 2022 will drive you to explore your social side.
Libra's 2022 Goals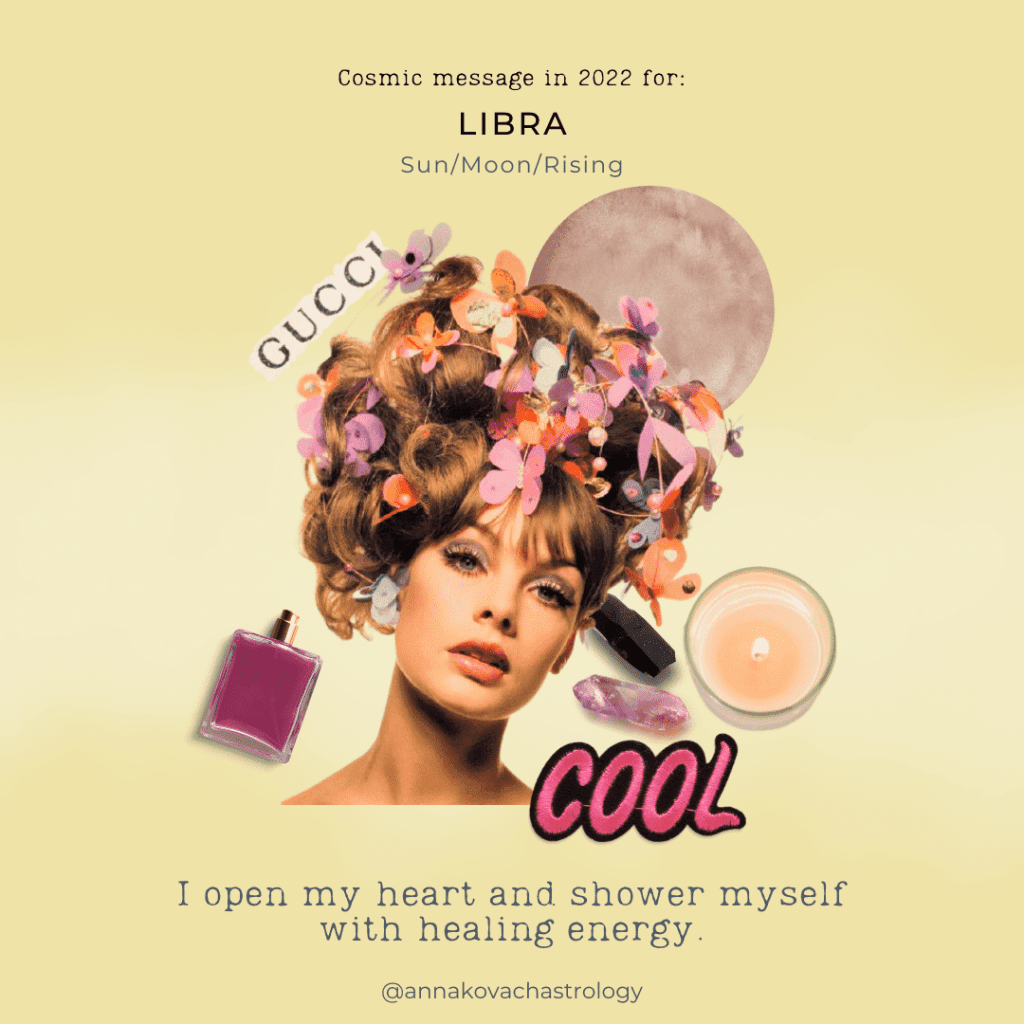 2022 Affirmation for Libra: I open my heart and shower myself with healing energy.
In 2022, Libra may need to set major goals around self-care. This will definitely be a year that tempts Libra to forget their own needs and cater to everyone else. But this will leave Libra feeling drained and burned out before the year is over.
Libra's top goal for 2022 needs to be doing one positive thing for themselves every day. Carving out time for self-care and relaxation is also essential for Libra during 2022.
This can be a challenging year for Libra, as the sign of peace and balance may become stressed by the change and surprises that this year brings. Libra needs to set a goal to pursue their own interests in art, literature, theater, and the humanities.
Set a goal to take a class or get involved in the performing or visual arts this year. This goal can help Libra satisfy their creativity and also to relieve stress.
Finally, 2022 is the year that Libra will need to set boundaries with others, and themselves, when it comes to spending. Set a goal to revisit budgeting and boundaries. Set limits with yourself and others out of love so that you won't end up in a precarious position as this year brings rocky challenges in finance.
Scorpio's 2022 Goals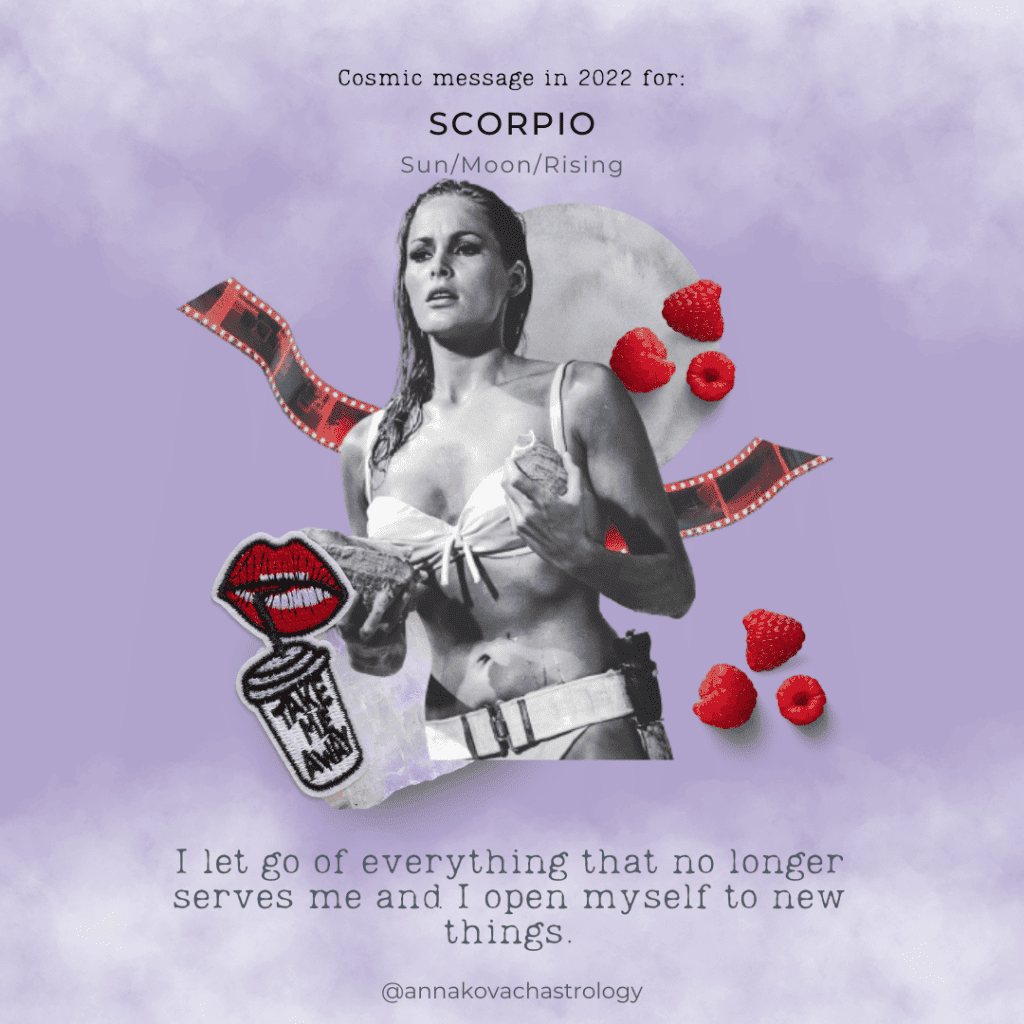 2022 Affirmation for Scorpio: I let go of everything that no longer serves me and I open myself to new things.
Scorpio will find the intense and exciting year of 2022 to be filled with great opportunities to finally break free from stagnation in their career and to set their sights on new opportunities. Scorpio may be called to dramatically change priorities now, so this is a good time to get organized.
Scorpio's top goal for 2022 should involve cleaning house. This is a time to rid yourself of the clutter you've been accumulating. Clothes that no longer fit, books you aren't going to read again, and so forth.
As you're setting new goals of revitalizing your career and personal life, align your actions with intention and free yourself from the stuff that has outlived its purpose in your life. Your planetary coruler, Pluto, makes its historic return for the first time in the chart of the U.S. and any Scorpio whose career or livelihood is dependent on the U.S. government or economy will need to be flexible and open to letting go of past expectations and starting fresh in the coming year.
Another important goal for Scorpio in 2022 is to work on healing and centering practices, such as meditation, Tai Chi, or other mindfulness tools. This is critical now, Scorpio, because 2022 will push you to your limits and make you want to go to extremes. Yet the obsessive sign of the scorpion can get into trouble unless they have a mechanism to create balance.
And finally, 2022 is an important time for Scorpio to set a goal of working to let go of resentments against others who have disappointed them in the past. Letting go is the big theme this year, as you may have noticed. This is an important time to free up space in your life and in your psyche so that new opportunities can take root.
Sagittarius' 2022 Goals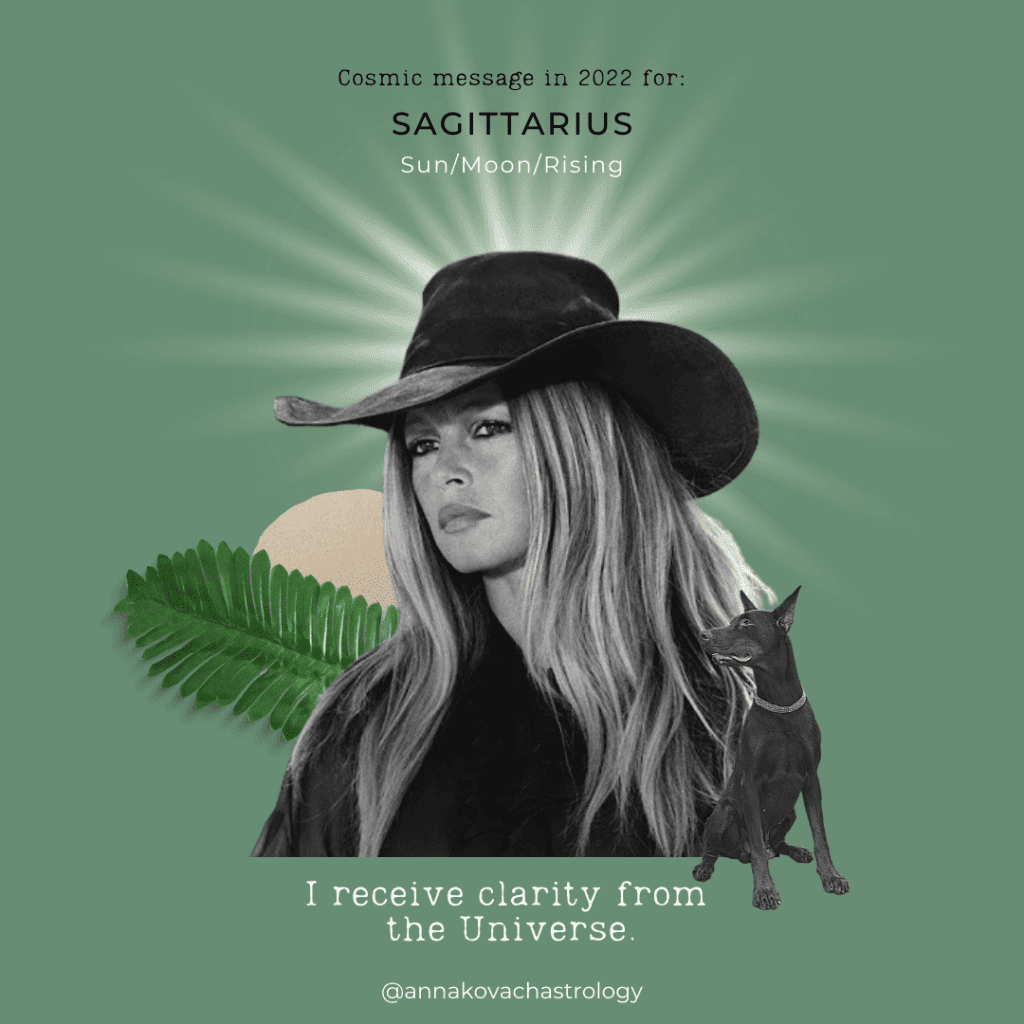 2022 Affirmation for Sagittarius: I receive clarity from the Universe.
The sign of the Archer can set goals to travel again, as 2022 will bring fortunate opportunities to break ground and explore new horizons. Make a goal to visit a place you've never traveled to before. 2022 will remind you that life is too short to procrastinate.
Another important goal for Sagittarius in 2022 involves reckoning with what you really desire in love. The year begins with Venus retrograde and may cause you to rethink your attraction strategies or reconsider what you even want in love and relationships. If you've been running from commitment in the past, then this year's abundance of Mercury Retrogrades may have you rethinking your strategies and dreams again, and again, and again, and again! Your goals should involve going back to the drawing board and becoming clear about what you really want in a relationship.
And Sagittarius's final goal for 2022 involves one of this sign's least favorite things. Whether this sign of gambling and expansion likes it or not, 2022 is an important time for this sign to set a goal of moderating spending and clearing up old debts. Much turmoil and change await in 2022 and the years that follow.
Even lucky Sagittarius will want to work through their hectic finances and start out on a ground that is as solid as possible, so they will be better suited to deal with the turmoil they'll face.
Capricorn's 2022 Goals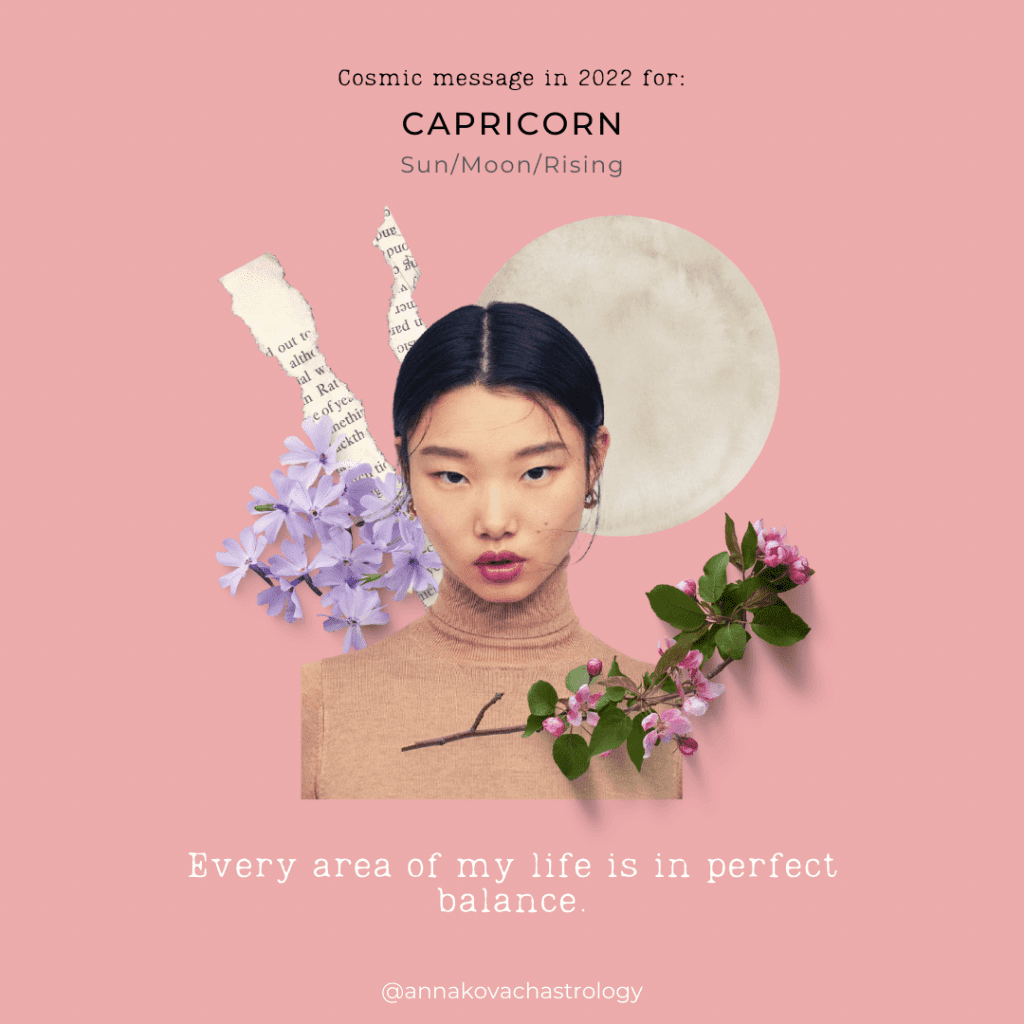 2022 Affirmation for Capricorn: Every area of my life is in perfect balance.
Capricorn loves stability and will want to start the year off with solid plans. In 2022, however, the grounded earthy sign of Capricorn will find repeated challenges especially in the realms of career and finance.
Tradition won't be the best predictor of the outcomes this year, but Capricorn is not one to throw caution to the wind and break all the rules. Instead, it will be in Capricorn's best interest to set a goal to learn about new and innovative topics in your industry.
This will be especially helpful as Pluto finally leaves your sign and spends some time in Aquarius before going retrograde again. It can also be helpful as this year will start off with many intense planetary clusters both in Capricorn, the sign of tradition, and Aquarius, the rebellious inventor who looks to the future.
Dipping a toe in the water can help you figure out how to adapt to future changes that may leave you feeling like the world is moving too fast. Make it a goal to study futuristic topics and trends, especially in your career.
Another important goal for Capricorn in 2022 is to work on finding a balance between work and play. Capricorn may go to extremes taking on numerous projects and responsibilities, as this is a key time for expansion for Capricorn. But only expanding work without bringing play and recreation into balance can burn this sign out.
Finally, Capricorn can set a goal to make innovative changes to their home in 2022. An upgrade will be needed, especially one that allows this sign to keep up with the times when it comes to being environmentally friendly, money-saving, and comfortable.
Aquarius' 2022 Goals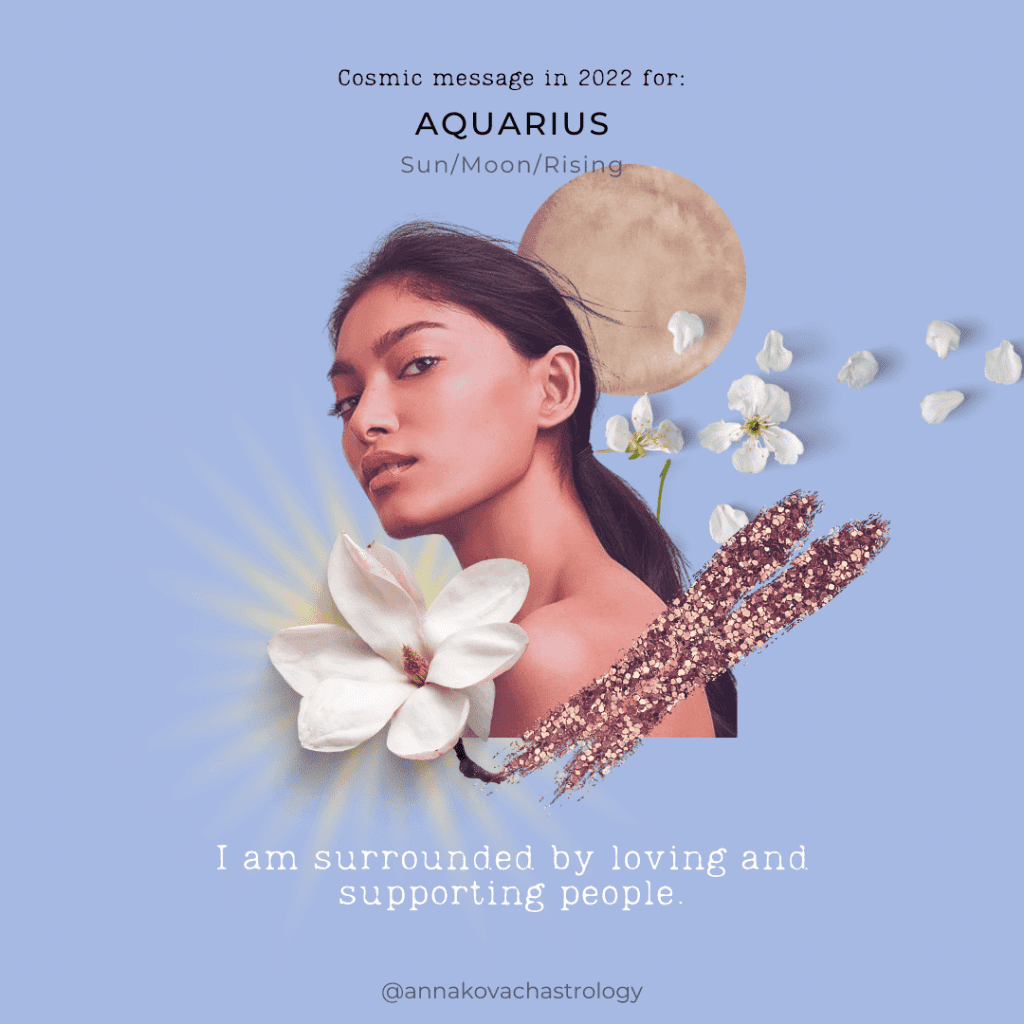 2022 Affirmation for Aquarius: I am surrounded by loving and supporting people.
Aquarius is notorious for starting goals and not completing them, but this year may be different. Aquarius is aligned to have an exciting and prosperous year as a lot of dynamic planets are impacting this sign. This adaptive, innovative, and erratic sign can embrace a little chaos and make the most of important changes in 2022.
The first major goal Aquarius should make in 2022 is to regularly reconnect with old friends. In the past few years, Aquarius is likely to have gotten swept up with independence-fever. But this year, Aquarius will do well to remember that old and new friends alike are important to their growth now. Make a weekly or monthly date to catch up with friends. This will also help Aquarius with important commitments in the days to come.
Another important goal for Aquarius has to do with setting aside a financial safety net. This can be difficult for spontaneous Aquarius, yet it is essential that in a dramatic and intense year like 2022, Aquarius will need to think of their safety net more than usual.
When it comes to love and romance, this is also an important year for Aquarius to learn to share and collaborate. Set a goal to work on compromising with others without compromising your unique individual needs. Aquarius will need to practice negotiating rather than insisting on having exactly what they planned.
Read next: What Turns A Woman Off Based On Her Zodiac Sign
Pisces' 2022 Goals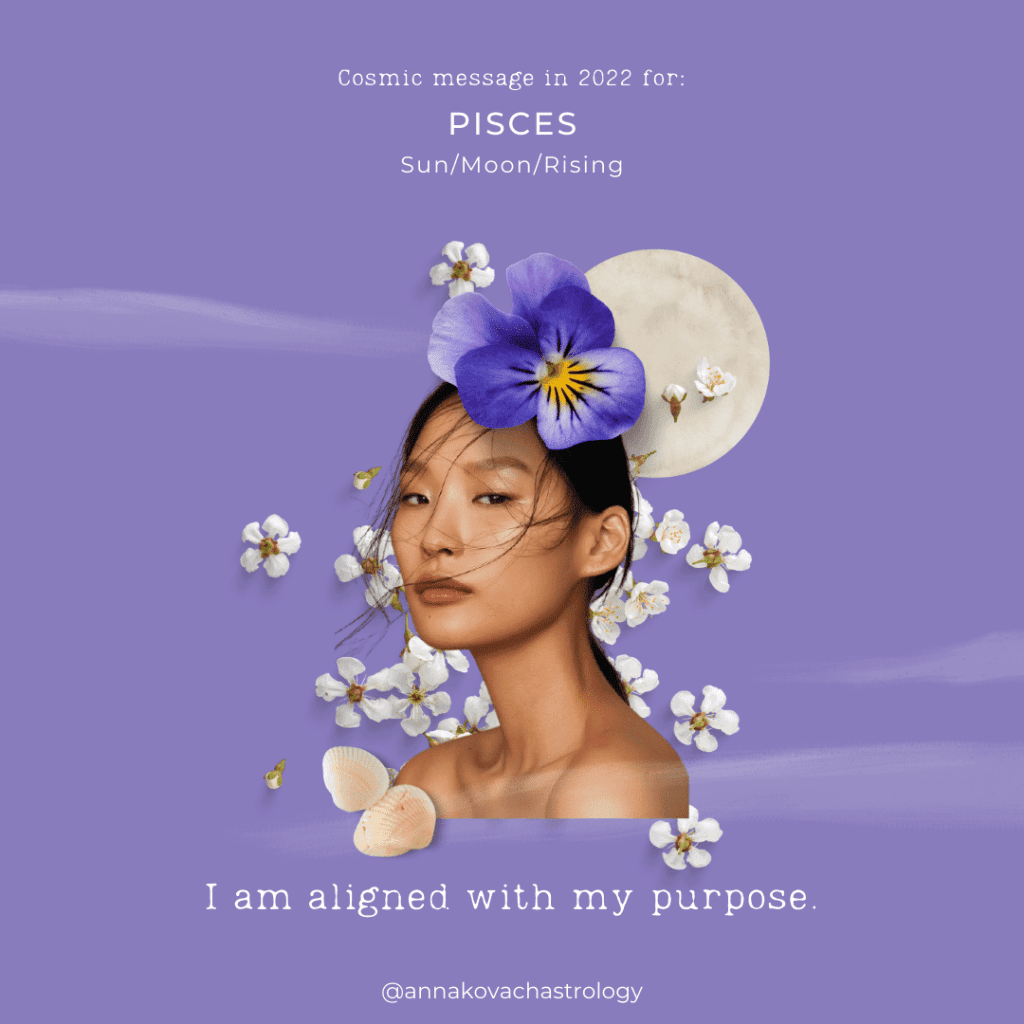 2022 Affirmation for Pisces: I am aligned with my purpose.
There will be a lot of activity in the sign of Pisces in 2022, and this sign can get swept away in a wave of emotion as changes abound. Pisces can make the most of this energy by setting specific goals that are also achievable.
Of all the signs, Pisces may dread setting goals the most because Pisces never wants to feel beholden to a set plan, preferring to go with the flow. But there are a few things that will be essential to Pisces in 2022. The top goal for Pisces is to get involved in a creative project that allows this sign to give back to the community. This will be both empowering and essential to Pisces maintaining balance in 2022.
The year 2022 also brings new opportunities to travel and expand on emotional healing and spiritual growth and Pisces won't want to miss these opportunities. Set a goal to travel to a destination that will bring opportunities for emotional connection and soothing. A yoga retreat or trip that involves spending time in healing waters, for example.
Finally, when it comes to romance, Pisces needs to have a goal to balance everything they do for others with at least one thing they do just for themselves. Okay, they may not get an exact match of one to one, but it will be important for Pisces to set a goal related to self-care and autonomy as 2022 brings many opportunities to flirt, get involved in an exciting affair, or get swept away by a romance that can cause this sign to lose their focus.
My Final Thoughts
Now that you've gotten an idea of the most important goals for each sign based on the transits emerging in 2022, you'll be better prepared to make the most of the turbulent, changing energy that surrounds us as we continually adjust to entering the Air Age.
The shifts are still only just beginning, but adaptability and instinct will be crucial to helping you adjust to the changes on the horizon.
Are you feeling a little lost when it comes to your love life? Did you know that Astrology is a really helpful tool in getting the relationship you have always wanted? Can I let you in on a secret?
I am now offering VIP consultations to some of my lucky readers. This is a wonderful way to understand your chart and how it influences your love life. What are you waiting for?
Until next time, my lovely readers.
Your friend and Relationship Astrologer,
Anna Kovach
---
---