It is almost unbelievable that we are wrapping up another year, yet again! It definitely feels like 2022 has come and gone in the blink of an eye! If you thought 2022 was crazy, wait until you see what is in store for 2023!
Is 2023 a Good Year?
The new year is about to bring many changes that will undoubtedly change the course of the Universe in a big way. Three Major planets are changing signs this year, Jupiter is moving into Aries, Saturn is moving into Pisces, and an extremely rare event is also happening, Pluto, the planet that can take between 12 and 30 years to change a sign is finally moving from Capricorn into Aquarius.
This is a year going to be filled with expansion, changes, transformation, and leveling up to where your soul is destined to be. By this time next year, you'll be a completely different woman. You will know where your power lies within you.
Jupiter, the planet of luck, abundance, blessings, and fortune is moving into the sign of Aries on December 20 where it will be until May. You have no idea what an amazing opportunity this is for every single person on earth. 
So, overall, yes – 2023 is going to be a good year.
This is the time to be bold, brave, and full of courage. You can take risks and know that the Universe is going to catch you before you fall. Embrace this energy and don't be afraid to take a chance. 
You're definitely going to need this support from the Universe because having Pluto and Saturn change signs is going to be extremely tough. But having a focus and knowing where to find your luck may be invaluable for you and your journey. Focus on the positives, but don't forget to learn from the challenges.
So, Is 2023 A Good Year For Your Sign?
The overall vibe of 2023 is going to be more positive, but each sign is going to feel its benefits in different areas of life. Some signs will have luck in love, others in their self-growth and personal journeys… Find your Rising, Sun and Moon sign below for a more detailed forecast.
Take note that for every sign I have written an affirmation to help you navigate 2023. Whenever you are stuck remember this message and repeat it to yourself to help you connect to the Universe and its blessings.
Here is my advice on how to access your area of luck and blessings this year and what positivity you can expect to come your way in the new year! I would suggest reading your Rising sign before taking a look at your Sun and Moon sign. 
If you would like to dive even deeper into what to expect for this new year, then remember that there is a 2023 predictions book you can get your hands on. There is a lot more you need to learn if you want to make the most out of 2023.
Aries – Power and Luck in 2023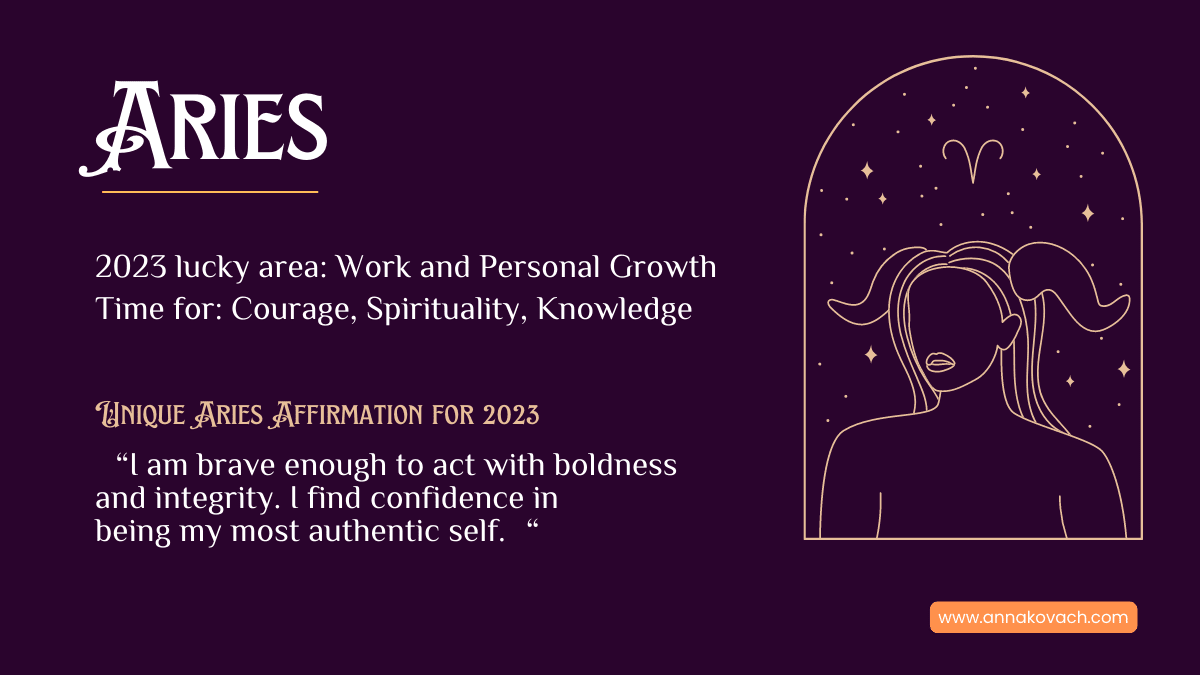 Aries 2023 lucky area: Work and Personal Growth
Aries 2023 Unique Affirmation: "I am brave enough to act with boldness and integrity. I find confidence in being my most authentic self."
I must say that you must be the luckiest girl in the world this year, and I'm not just saying that as your Astrologer. I mean, Jupiter in your sign this year is such a blessing of abundance and luck! There will be no limit to what you can achieve over this period of time, especially if you prepare yourself to take advantage of each opportunity with courage and boldness.
There is no doubt that you will sweep someone off their feet with your radiant beauty, incredibly attractive personality, and heart-stopping charisma this year. You can't help but be exquisitely irresistible this year. So, make the most of this year as it only comes around once every twelve years.
As opposed to hiding behind your curtain and dimming your light for the sake of pleasing others, this year is all about embracing your most authentic self and being at peace with who you are. There is no need to hide away and dim your light just so others will be happy; you are magnificent and it is about time you realized it.
In this new year, you can bring luck to yourself by simply being yourself. It is as simple as that, and embracing who you are as a person will ensure you will be truly fortunate and blessed. There is no point in pretending to be someone else when there is only one of you in the world.
I am sure that this year will hold a lot of adventures for you, you will get new opportunities at work, you will travel a lot, and perhaps you will meet someone from abroad. Simply keep saying yes and you will see where it leads!
This is the year where you manifest all the dreams you have ever wanted in your life, and believe me, you can bet they will all come true. There is nothing more incredible than this, and you deserve every happiness there is in the world. Rejoice in your flawlessness, for it is what you deserve.
Get Your Aries Woman 2023 Success Roadmap Horoscope
Taurus – Power and Luck in 2023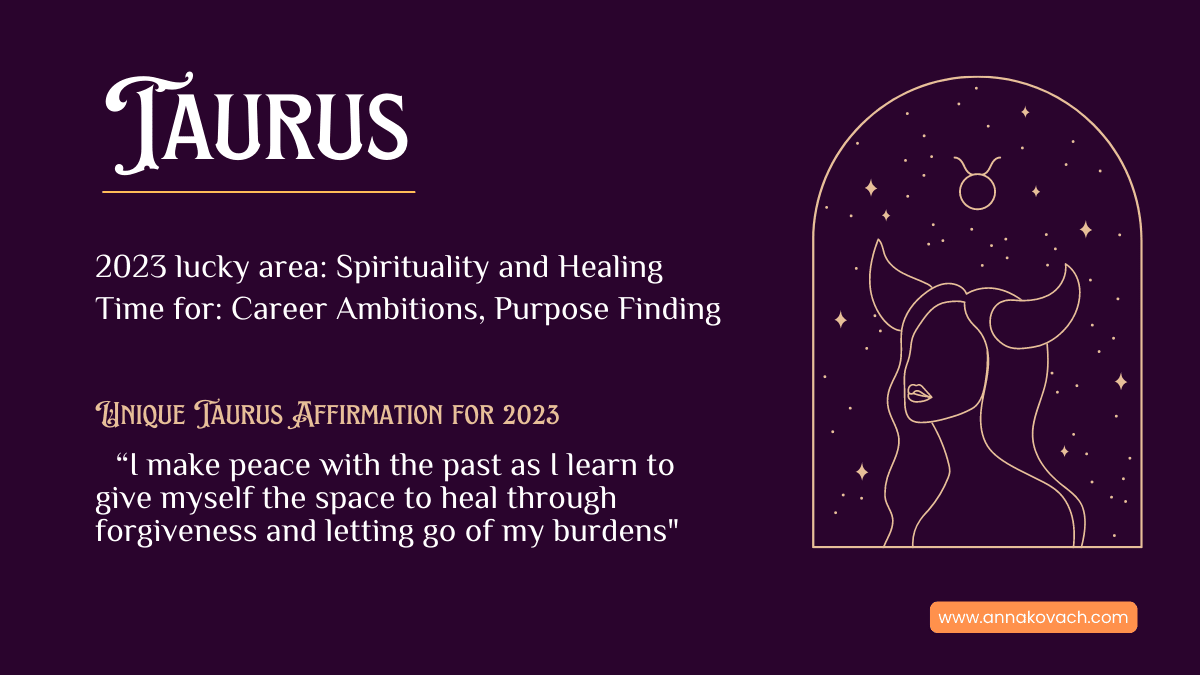 Taurus 2023 lucky area: Spirituality and Healing
Taurus 2023 Unique Affirmation: "I make peace with the past as I learn to give myself the space to heal through forgiveness and letting go of my burdens"
As you try to figure out exactly who you are and what you want in life, the next few months are likely to bring you a high level of spiritual and psychological insight. The next few months may be marked by a desire to be alone as you discover who you are.
This shift in energy can feel like a blessing to you. You enjoy being by yourself and want to spend as much time as you can alone. Don't try to force being productive; this is why the Universe is asking you to slow down and rest. Listen to the calls of the Universe to help you heal.
It might not be the most coupled-up energy, but it provides a great opportunity for you to get to know yourself better, experience deeper healing, and learn more about yourself. There is nothing wrong with looking forward to this time because it can be the most beautiful and healing, especially if you give yourself the chance to forgive and forget the hurts of the past.
As far as your sign is concerned, this downtime might be much needed for you to allow your spiritual side to shine through as you come to a point of forgiveness for yourself, as well as forgiveness for others. Healing is the greatest gift from the Universe right now.
I am sure that you will realize that with every ending comes a beautiful new beginning, so even though some parts of your life may seem like they are coming to an end, you will realize that you will have a better future ahead of you. 
Eventually, you will realize that certain aspects of yourself are becoming obsolete, and you will be able to find a greater sense of peace within yourself after going through the process.
In order to cope and support yourself, it is vitally important to commit to your journey. You need to listen to your intuition and be grateful for everything you have in your life. It is important to have your spiritual practices in place, this will help you to cope and support yourself.
Get Your Taurus Woman 2023 Success Roadmap Horoscope
Gemini – Power and Luck in 2023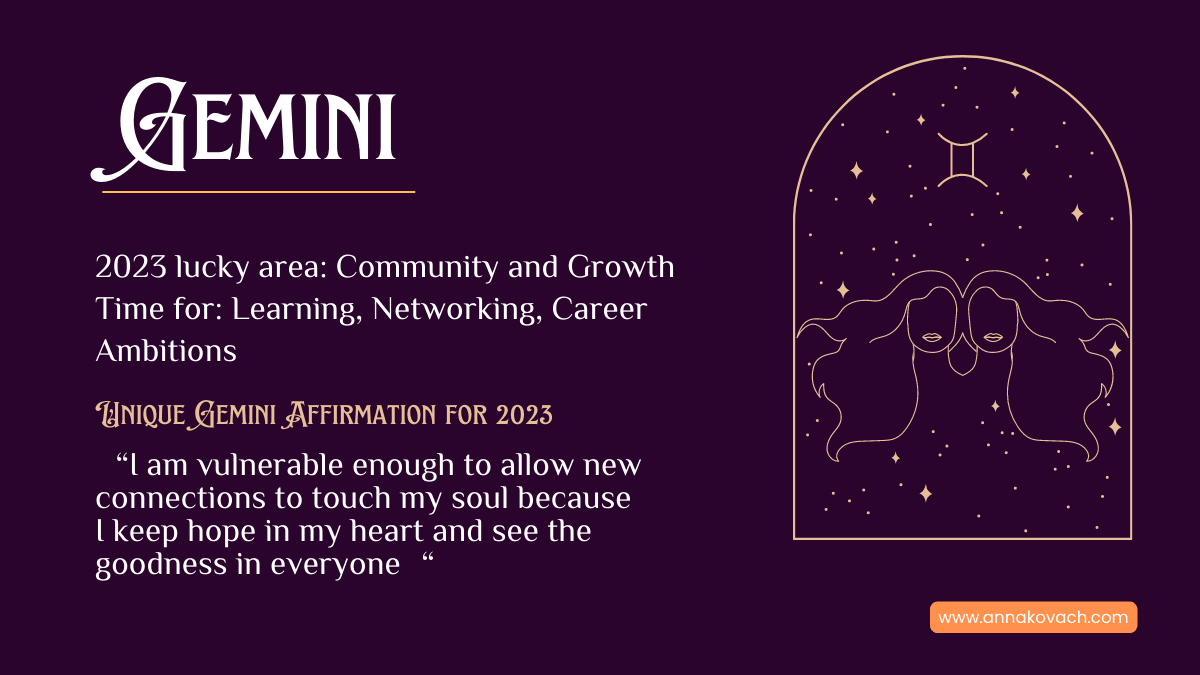 Gemini 2023 lucky area: Community and Growth Through Connections
Gemini 2023 Unique Affirmation: "I am vulnerable enough to allow new connections to touch my soul because I keep hope in my heart and see the goodness in everyone"
Jupiter is now moving into Aries. As a result, you can expect your social life to take a major turn for the next year. Your connections of all kinds will get a major boost – how exciting! This is going to be an excellent time for you to expand your network and make new connections.
As a result of all these new opportunities and possibilities available to you over the next few months, you have a great deal to look forward to. Your ability to connect with people and put yourself out there makes you the perfect candidate to take advantage of them.
There is a great chance that you will meet someone special through your social circles this year, but in order to achieve this, you must still be willing to put yourself out there and trust that the Universe will guide you to the right person at the right time.
Embrace your bold side and you'll find a place within a community that feels like a home to you, so you can be you AND feel like you belong. This year you'll certainly meet your tribe – as if you don't already have more friends than you can count!
Jupiter is offering you the chance to get back in touch with the people who bring you a sense of fun and enjoyment. You may lose a few friends along the way, but they were never meant to be in your life, to begin with, so don't worry, Jupiter will bring you new friends.
This is an amazing time for you to have hope and believe in the possibilities of your life as any relationships or friendships that are formed during this transit will bring you deeper connections and feelings of fulfillment.
Get Your Gemini Woman 2023 Success Roadmap Horoscope
Cancer – Power and Luck in 2023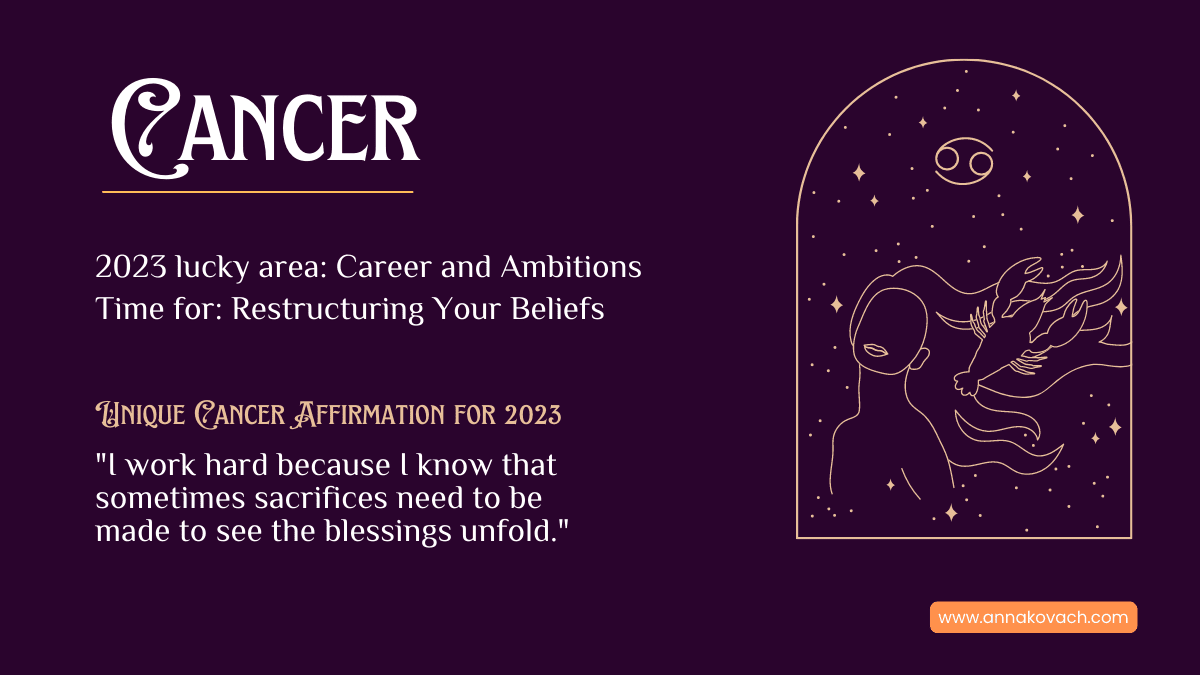 Cancer 2023 lucky area: Career and Ambition
Cancer 2023 Unique Affirmation: "I work hard because I know that sometimes sacrifices need to be made to see the blessings unfold."
This will be a year where your career and ambition are on the rise with Jupiter in Aries. This might be the year where you should set aside all your personal goals and focus solely on your career goals in order to gain a deeper sense of fulfilment in your life. It is a small sacrifice, but one that will be worth it for you in the long run.
You are going to be able to achieve all of your dreams this year, because you are going to be blessed with a lot of amazing opportunities. This is the moment you have been waiting for, and all your hard work and patience have not been in vain. Just wait and see the results.
When it comes to relationships, I understand that sometimes you may feel conflicted and be torn between your heart and your head, but I urge you not to worry about it. Follow your dreams first and by doing so, make yourself happy and if the relationship is meant to be, it will work out perfectly for you.
It is imperative that you follow your instincts and only do what feels right to you. Even if others doubt your decision, you will at least be able to smile knowing you did what you thought was right for you. What else could you possibly expect?
In this transit, you can expect so many lucky opportunities and offers to come to you – just do not let anything or anyone stand between you and these opportunities. Focus on yourself first and foremost and everything else will fall into place.
At this moment, you have the opportunity to shine and take the center stage. Do not forget that success is sexy and that anyone who truly cares about you will do anything for you to be successful and grow into the woman you were meant to be.
Get Your Cancer Woman 2023 Success Roadmap Horoscope
Leo – Power and Luck in 2023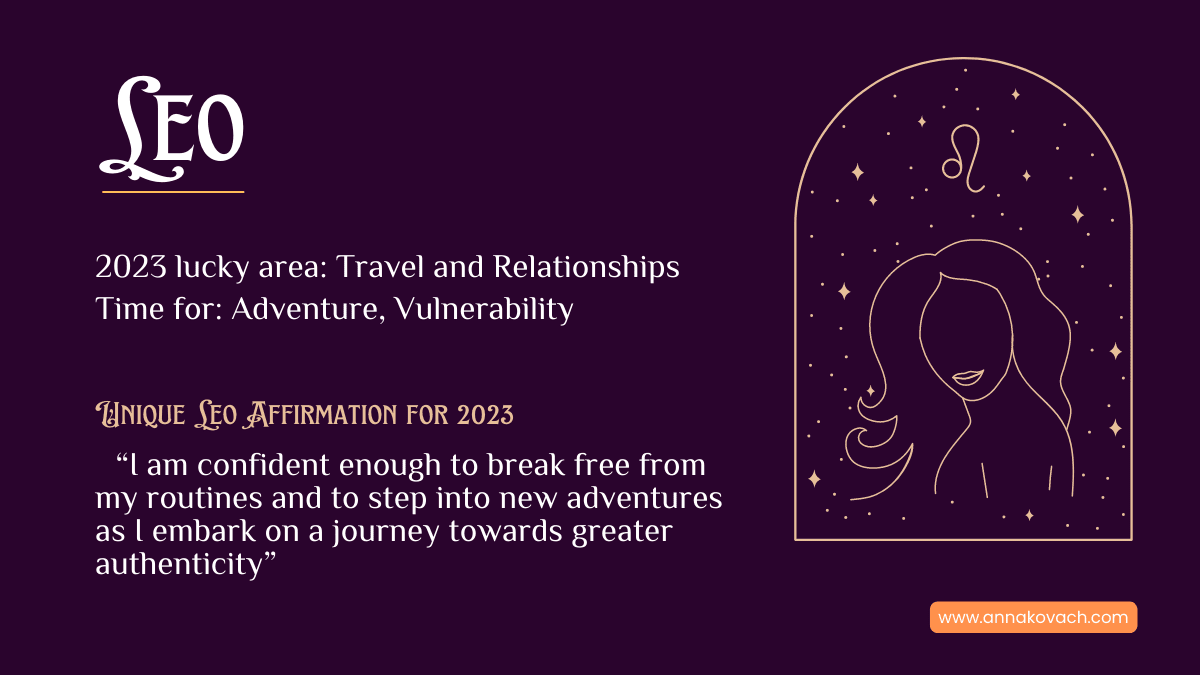 Leo 2023 lucky area: Travel and Adventure
Leo 2023 Unique Affirmation: "I am confident enough to break free from my routines and to step into new adventures as I embark on a journey towards greater authenticity"
There will be plenty of fun and adventure ahead for you, Leo. This is a great time for you to broaden your horizons and discover a new way of thinking since Jupiter is now in the sign of Aries. This is a time of transition and discovery for you, as you are right at the beginning of change.
As you learn and experience more during this year, the closer you will come to be the real you, and aren't you just eagerly looking forward to meeting the real you? As you grow, so will your opportunities to get noticed, which will allow you to make a more authentic version of yourself.
There are many opportunities to get outside your comfort zone right now, so if you feel as though your life has been stagnating and that you are stuck in a rut, then Jupiter is bringing you many opportunities to break free of that rut. It is such an exciting time!
You may find yourself on the verge of some exciting travel or study around the world, which will mean meeting someone who could have a big impact on your life in the future. This might just be the shakeup you need to put into perspective what matters in your life.
When you broaden your horizons, you are open to more opportunities to meet new and interesting people. To this end, don't be afraid to take the risk to try something new because when you expand your horizons, you are open to new and interesting opportunities that can benefit your life.
There is no doubt that this is a year where you will have to break from society's expectations of you and find interesting new perspectives from which to view the world to make the most of yourself as a person. This will prove to be very impactful on you, so embrace all these changes and remember to have fun!
Get Your Leo Woman Success Roadmap 2023 Horoscope
Virgo – Power and Luck in 2023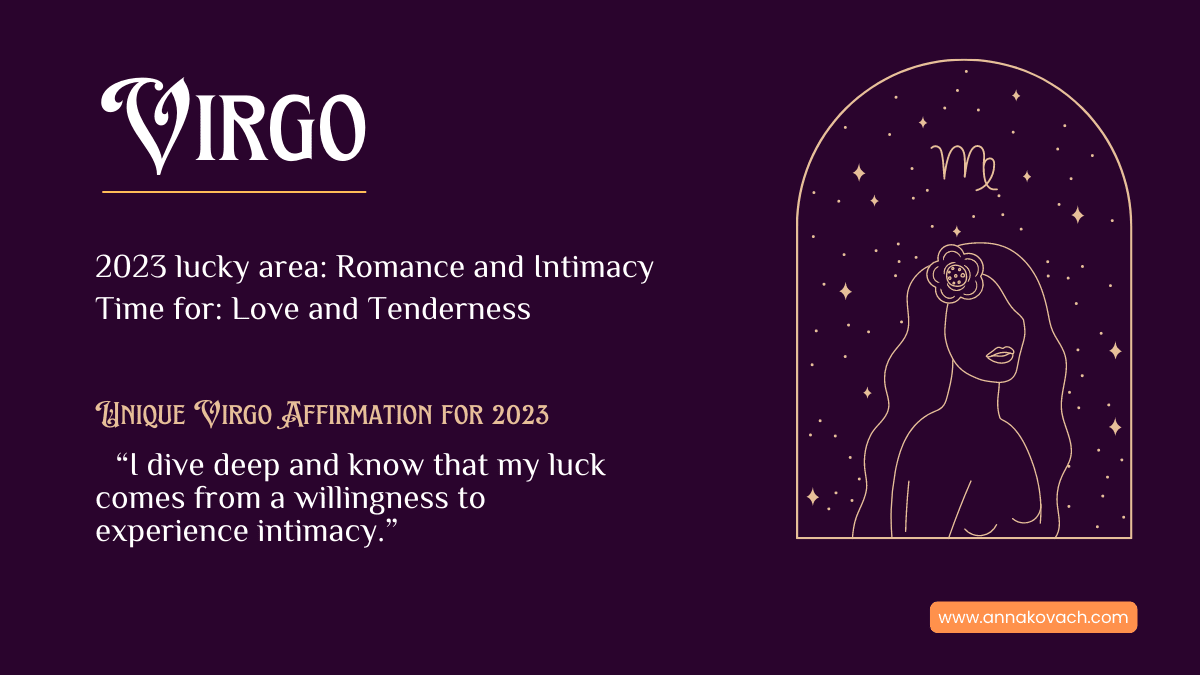 Virgo 2023 lucky area: Intimacy and Relationships
Virgo 2023 Unique Affirmation: "I dive deep and no longer feel my vulnerability as I know that my luck comes from a willingness to experience intimacy."
During the second half of 2022, your love life has been in a bit of a tizzy, and it looks like this theme will continue into 2023 with Jupiter in Aries. Whatever connections you have built in the past are now enhanced as you can further solidify them.
There is probably someone in your life who has had a significant impact on you and that is one of the things you will want to pursue. This is especially true if you have met someone who lights a special fire within you.
There is a great chance this transit will provide you with a chance to find out even more about that special person and if you are already in a relationship, it can now turn into something more permanent and meaningful.
You need to be prepared for some vulnerability, as this is the only way you will be able to grow closer to your partner this year. The level of intimacy this year is going to be very high, so be prepared to dive deep and put all your cards on the table. The connections you make now are going to be very intense, so you need to be prepared for some vulnerability.
There is a good chance that you will start falling into the trap of co-dependency this year if you do not keep your spiritual practices such as yoga and meditation. If you do this, you will be more grounded within yourself and the urge to lose yourself in someone else should be reduced a lot.
In the course of the year, it is important to focus on building these foundations in your relationship, so that it grows and flourishes beautifully. Incorporating a spiritual practice into your relationship can make the bond much stronger than you may expect.
Do not allow yourself to get lost in the energy that comes with being with someone else. You still need to focus on yourself, and do what fulfils you and what makes you happy. Do not let someone else's mood affect your own.
Get Your Virgo Woman 2023 Success Roadmap Horoscope
Libra – Power and Luck in 2023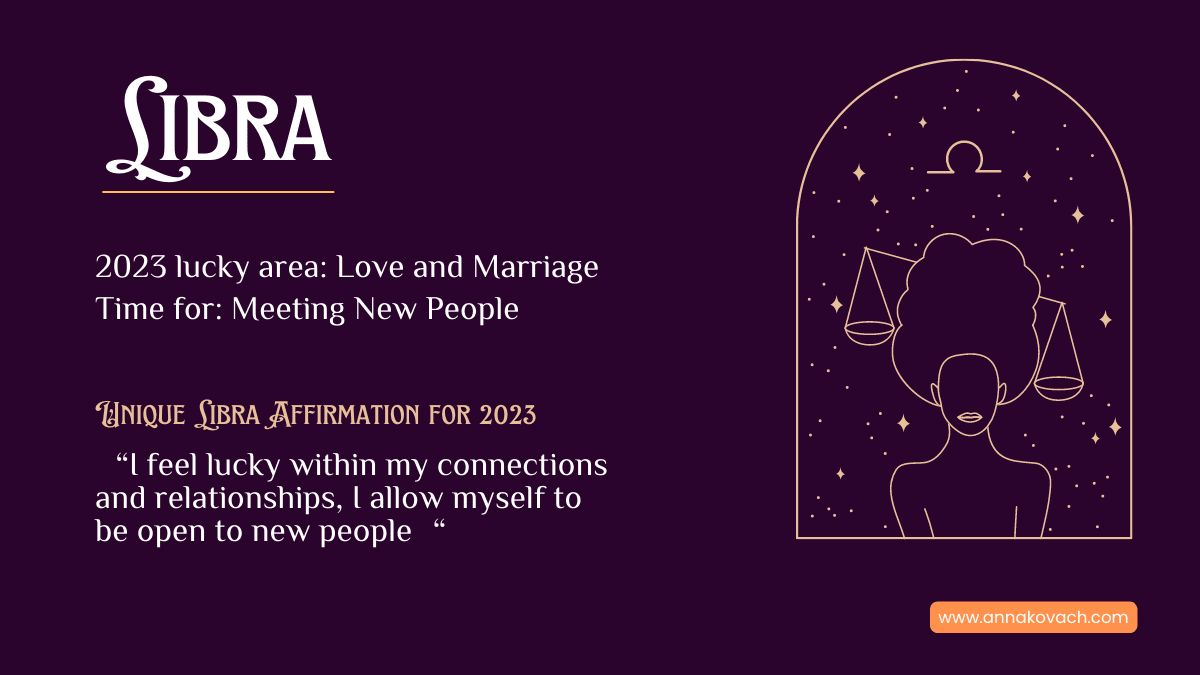 Libra 2023 lucky area: Love and Marriage
Libra 2023 Unique Affirmation: "I feel lucky within my connections and relationships, I allow myself to be open to new people"
Throughout 2023, relationships will be the most important theme that you will be experiencing, especially when Jupiter enters your opposite sign of Aries. You will find yourself feeling more ready for romance than you have been for some time, and you will feel more attracted to someone than you have in a very long time.
I think you are going to have a great time when it comes to love. You may already have hoped and prayed for it, but you may still get it as a surprise because these things usually happen unexpectedly. Have fun with what comes your way!
In the midst of this year's love of rebirth, you are destined to meet the most perfect partner you could ever imagine. The stars are surely aligned to direct you towards the perfect partner of your life and make your love life the best it can be.
As you move along this process, it is important to keep your vibration high and stay true to yourself throughout. Falling in love and dating can sometimes lead to derailments from our truest selves, so don't forget to ground yourself and keep your vibration high throughout this process.
If you want to find your perfect match, then you have to step outside of your comfort zone – it is not always your typical type of person – so don't be afraid to get to know someone you would not usually choose to date. Listen to your gut and see what direction it leads you in.
This is an amazing opportunity for you to make a commitment that will last a lifetime, find yourself in a loving relationship that will last until the end of your life, and truly enjoy it. I hope you embrace these blessings and be grateful to the Universe for taking you down this path.
Get Your Libra Woman 2023 Success Roadmap Horoscope
Scorpio – Power and Luck in 2023
Scorpio 2023 lucky area: Work and Health
Scorpio 2023 Unique Affirmation: "I take care of myself and allow myself to heal by making myself a priority, my health comes first"
Scorpio, this is going to be a year that is going to be filled with so many blessings that will enhance your work and your health significantly. There are so many benefits you will be able to enjoy this year, especially when it comes to your work and your health. This is your year to make things happen and to be the healthiest you have ever been.
I am certain that the things in your life this year will get better in terms of your health if you have been feeling out of sorts when it comes to your health. You can gradually begin to feel the difference in your vitality as the year goes on.
There are many opportunities that will come your way throughout the next couple of years. This is your chance to establish some good foundations for yourself. This will be the year where you will see whatever effort you put out into the world will be returned tenfold. Making the extra effort will always result in success.
As Jupiter is in Aries now, you get the chance to invest in yourself and see the results of your efforts! You have the chance to get behind your goals, get healthy, and make an impact on your life! This is a great time to start over and really turn things around.
You need to think more seriously about your resolutions this year, and go for it instead of taking it easy! Putting so much effort and caring into yourself will pay off for you in no time at all. Not only will you see a difference physically, but the boost in confidence you gain will make it all worthwhile!
The art of improving your life is not easy, but if you do a little bit every day and stay consistent, you will start to see a difference in very little time. Keep in mind that the love you pour into yourself makes it easier for others to love you as well!
Get Your Scorpio Woman 2023 Success Roadmap Horoscope
Sagittarius – Power and Luck in 2023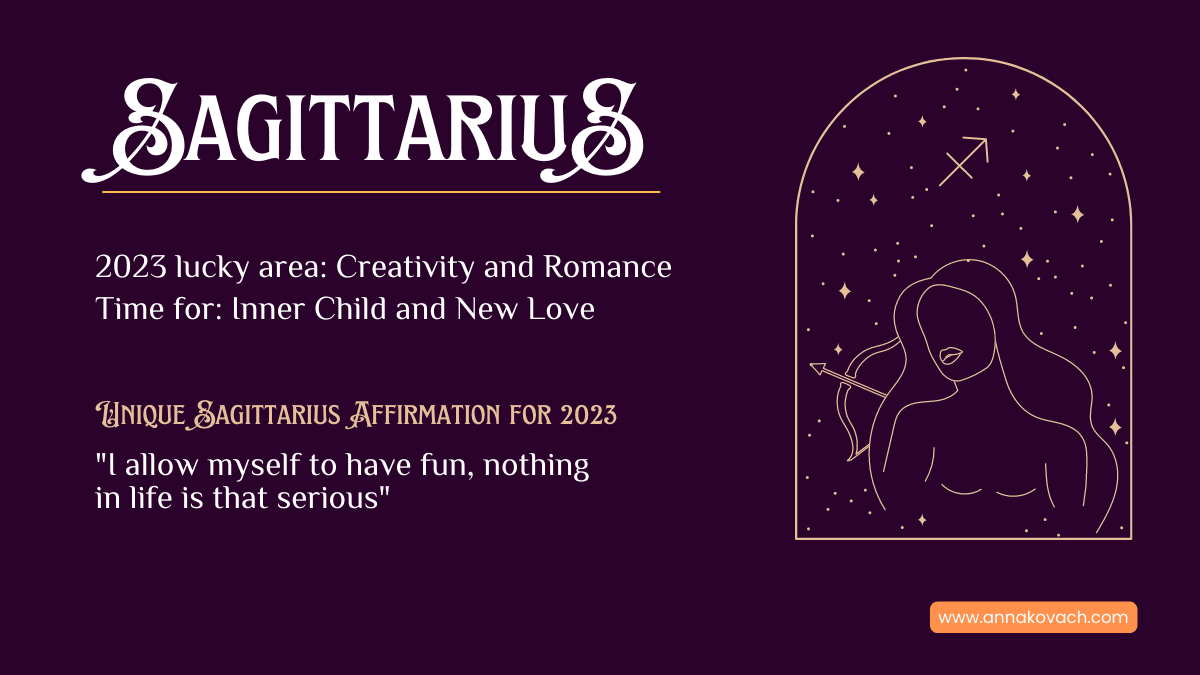 Sagittarius 2023 lucky area: Creativity and Romance
Sagittarius 2023 Unique Affirmation: "I allow myself to have fun, nothing in life is that serious"
As the year progresses, I suspect that you are going to experience a lot of love and creativity that will change your life for the better. Jupiter is in Aries, which triggers romance and creativity in your life, not to mention a sense of optimism and possibility for all adventures.
I believe that this is the year of love and it is time for you to realize that you deserve it! Don't doubt your lovability, just have fun with it and see where this connection takes you. Remember that this year will be all about adventure for you.
If you want to embrace that inner child and give her what she really requires, then this is the perfect opportunity for you. This year is pushing you to embrace your inner child and give her what she really needs.
This year, sparks could fly anywhere and anytime, so keep an eye out for the heart-shaped arrow that Cupid is going to use to bring you a hottie. Love can come in all shapes and sizes, so it is important that you do not close off your heart because someone doesn't seem like your usual type of person.
Jupiter is one of those planets that always brings with it the possibility of travel and adventure, so this new honey may very well be someone from a foreign country or even a complete stranger. What an exciting possibility! Just what your inner child is calling you to embrace!
You deserve to be happy in the world, so go after it with gusto and let yourself enjoy the things that bring you pleasure. This is going to be an amazing year, so make the most of it and have fun with it.
Get Your Sagittarius Woman 2023 Success Roadmap Horoscope
Capricorn – Power and Luck in 2023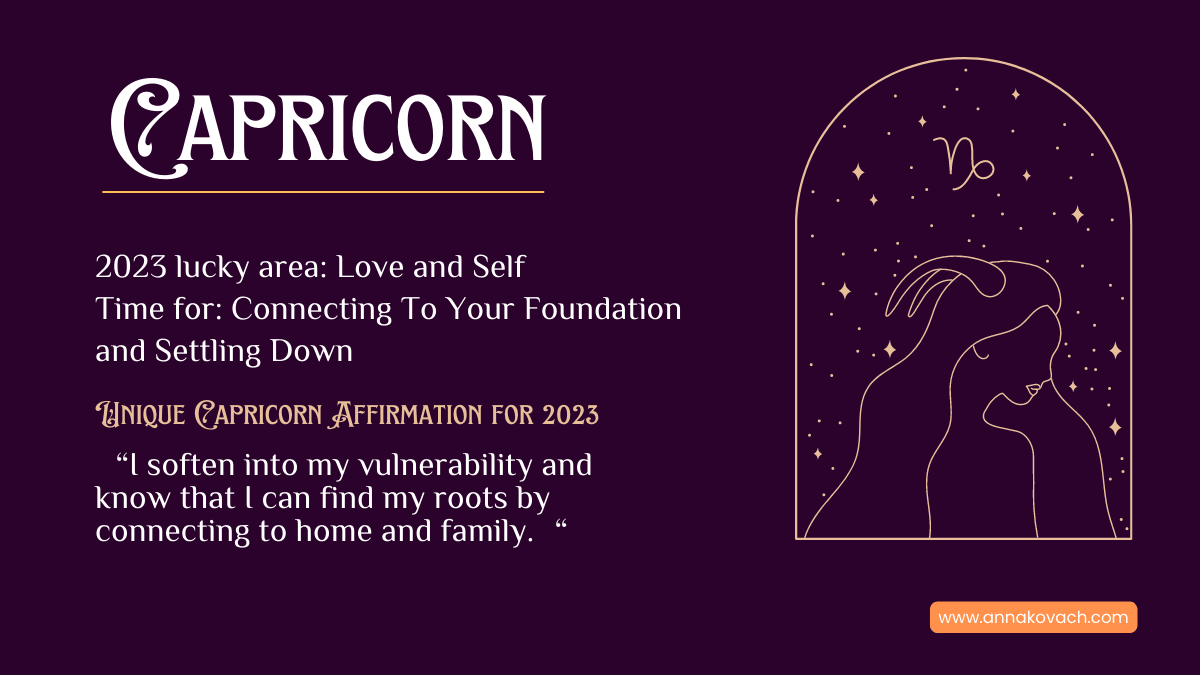 Capricorn 2023 lucky area: Love and Self
Capricorn 2023 Unique Affirmation: "I soften into my vulnerability and know that I can find my roots by connecting to home and family." 
The time when Jupiter is in the house of the home and family is always a pleasant time for you. Your luck just naturally increases, which is very fortunate for you. But this year is going to be especially magical for you since you get the chance to reconnect with your foundation and the reason you chose this path in life.
There will be no better time than now for you to find the roots you were looking for, and to feel settled in your space. Perhaps you and your partner will decide to cohabit in a space together? This is a very big step and shows your willingness to settle down for good.
When you are so used to focusing so much of your energy on your career and what you are able to accomplish in your life, you might find that your energy is directed towards your home, and this might be a new energy for you to deal with because you have been so focused on your career.
Your luck is going to come only from connecting with yourself and those closest to you. You might feel satisfied enough with yourself and not feel the need to reach out and expand your circle of friends. This might be a good year for you to focus on building your own relationship with yourself.
I totally understand your desire for a little bit more solitude and sanctuary in your own home, and there is absolutely nothing wrong with that. As a result, you will be able to gain the strength and fortitude you need to look at your emotional health in a more honest and objective manner and see if there is anything you can do to improve it.
This is a sentimental time for you, so don't forget to soak in every moment and remember how fortunate you are to be able to have your nearest and dearest around you. This is a sentimental time for you, so bask in every moment and be grateful for everything you have.
Get Your Capricorn Woman 2023 Success Roadmap Horoscope
Aquarius – Power and Luck in 2023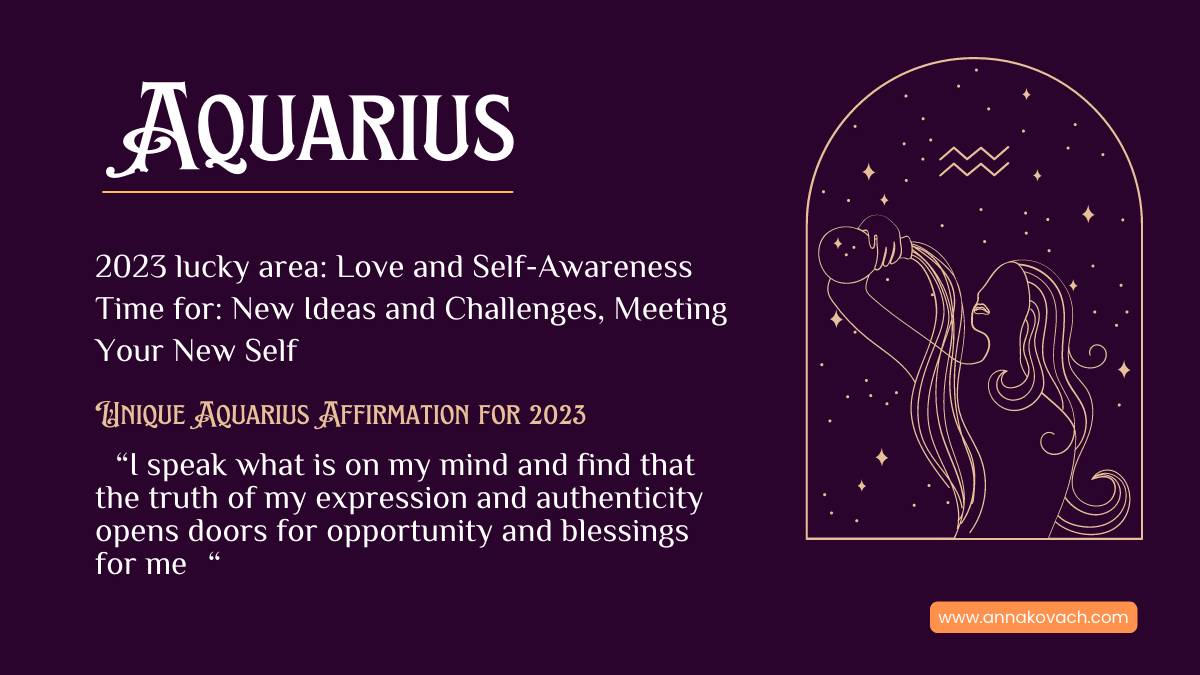 Aquarius 2023 lucky area: Love and Self-Awareness
Aquarius 2023 Unique Affirmation:  "I speak what is on my mind and find that the truth of my expression and authenticity opens doors for opportunity and blessings for me" 
Aquarius, Jupiter's return to Aries is going to prove to be very magical and full of connection for you. Being unable to connect will be a thing of the past now that this transit is giving you lots of chances to find out what makes you unique as well as find your ideal audience.
In the past few months, you have probably found it quite challenging to meet new people, so this year is the time for you to try different avenues and see what kind of results you will get. Jupiter in Aries will open up new connections for you. People from all walks of life may enter your life. 
Perhaps there is something you feel you need to say – well, this is the time for you to get your voice heard. This year you will be able to act as a messenger and share your story with the world. 
You may find your daily tasks becoming busier and busier as you are open to learn new things and have a beautiful curiosity towards the world around you. You will definitely be able to hone in your skills for communication. This might even be the year in which you start writing. 
Journaling will be a fantastic practice for you and it might help you to embrace your creativity as it is an extremely healthy way for you to express yourself and have your voice heard.
It is your curiosity that will carry you through this year and you should never be afraid to ask questions because you will never know where those answers will lead you. Have fun and embrace all the meaningful connections that will appear in your life this year.
Get Your Aquarius Woman 2023 Success Roadmap Horoscope
Pisces – Power and Luck in 2023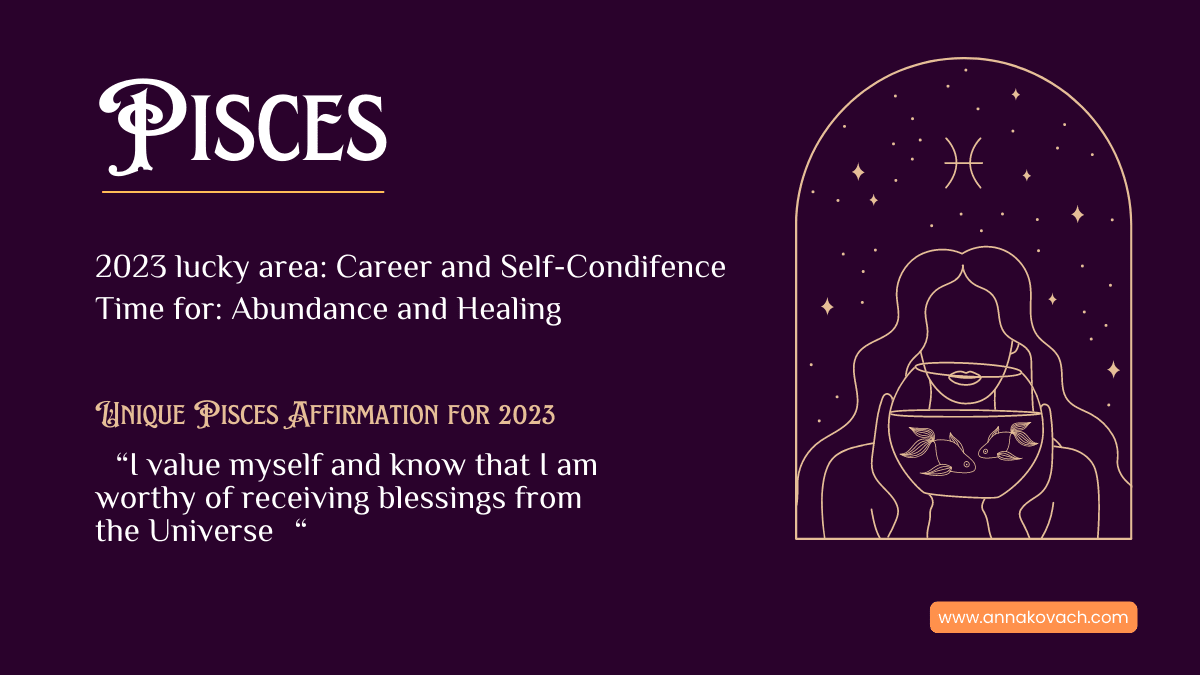 Pisces 2023 lucky area: Career and Self-Confidence
Pisces 2023 Unique Affirmation:  "I value myself and know that I am worthy of receiving blessings from the Universe"
During the time when Jupiter is in Aries, you will notice a shift when it comes to the way you value yourself in the world, and how you rate yourself on a financial basis. This year is all about enhancing your self-esteem and becoming more confident.
You might not always believe in yourself and you find it more convenient to support others than to follow your own dreams, but that won't happen this year, okay Pisces? This year, you'll have to be bold if you want to be rewarded. Take the leap!
As you can imagine, this can be a pretty transformative experience for you. You are a magnet for success this year and people are eager to buy what you are offering. When you are recognized for what you are worth, it will have a very positive effect on your perception of yourself.
There is so much that you have accomplished in your life and it deserves to be celebrated. If you had a chance to step back and look at your own greatness, you would find that there were many far-reaching consequences that could only be immeasurable to your success. All you really need to do is take a step back and reflect on your own greatness.
You deserve to be recognized for your success and you deserve to shine in the spotlight so that the world can recognize your brilliance and honour your accomplishments. Don't be afraid to embrace the spotlight, you deserve it and you deserve the recognition.
As a result, this year is about taking full advantage of your gifts, showcasing them to the rest of the world, and allowing them to see how splendid you are, but first, you have to recognize this within yourself first. You have a lot going for you, so now is the time to show the world who you are!
Get Your Pisces Woman 2023 Success Roadmap Horoscope
My Final Thoughts
We have quite a wild ride ahead of us in the new year. I think 2023 is going to bring a great shift in energy and it might be quite challenging. Luckily, the supportive energy of Jupiter in Aries is going to force us all to take a leap of faith and find what we need to grow. 
Changes and transformations can be really scary, but thankfully Astrology is such a useful tool to help everyone navigate their lives so perfectly. And ladies, I will always be there for you, every step of the way to give you the best possible guidance I can. 
There are so many shifts coming and this can mean quite a crazy journey ahead. But wouldn't you want to know more about what to expect in 2023? Just remember that I have a book out that can help you to navigate all the challenges of 2023 – and trust me, there are many. You are going to want to be prepared.
If you have any questions or comments please feel free to leave a comment in the section below. I am always happy to help out!
Wishing you a splendid new year to come
Your friend and relationship Astrologer
Anna Kovach
---
---